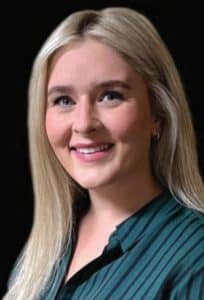 Cody Curl Joins Anthem Community Council Board in Vacant Seat Appointment
Photo courtesy of the Anthem Community Council
The Anthem Community Council (ACC) Board of Directors recently selected Cody Curl as their newest board member, filling a seat left vacant since April. This decision was made in the early summer and was met with a favorable response, receiving five of the possible six board member votes.
Curl will be representing the Parkside community as part of the ACC Board of Directors. Her term is set to run until April 2024, ensuring the Parkside voice will be adequately heard and represented for the coming period.
The board's decision further solidifies its commitment to ensuring representation from all corners of the Anthem community. It remains hopeful that Curl's addition to the board will bring fresh perspectives and positive changes.
Anthem Invites Residents to Participate in Community Safety Discussion
Local residents are invited to stay informed and contribute to the safety of their community at the upcoming Public Safety Roundtable. The meeting will be held on Tuesday, Sept. 5 at 2 p.m. at the Anthem Civic Building located at 3701 W. Anthem Way.
The roundtable brings together key figures from diverse groups including first responders, school administrators, the Anthem Community Council, the homeowners association, and community groups. All these parties have a vested interest in maintaining and enhancing community safety.
Attendees will have the opportunity to learn about recent activities from these groups and contribute their thoughts and concerns regarding the community's safety. The meeting is designed to foster a collaborative environment and encourages residents to be part of the conversation.
This event underscores Anthem's continued commitment to fostering a safe and secure environment for its residents. For more information about the upcoming Public Safety Roundtable, visit onlineatanthem.com.
Anthem Prepares for the Annual Autumnfest Arts and Crafts Fair
Anthem is ready to celebrate the season with its annual Autumnfest Arts and Crafts Fair. Scheduled for October 14 and 15, the event will be held at the Anthem Community Park, promising a variety of attractions for all festivalgoers.
Autumnfest 2023 will feature a bustling food court with live music to enjoy each day, a rotary beer garden for adults, and train rides (fees apply). For younger attendees, there will be a kids' zone filled with inflatables and a carnival running from October 12 to 15 in the lower park. A pumpkin patch and decorated pumpkin contest will add to the fall-themed fun.
Vendors who specialize in handmade fine arts, crafts, culinary items, and other unique goods are invited to participate in the fair. Applications to sell crafts can be submitted online at onlineatanthem.com.
For inquiries regarding the applications and Autumnfest 2023, interested parties can reach out to ACC Special Events Manager Debbie Pulido at 623-742-6050.
With its exciting line-up of activities, Autumnfest promises a two-day event filled with fun, food, and festivities suitable for the whole family.