Historically Deer Valley Airpark had the reputation as a heavy industrial park full of contractor yards, junk-yards and trailer parks and everything else down and dirty. That impression is long gone today. In fact, with all the new construction over the last 18 years, the Airpark is newer and more modern than most areas around the Phoenix Metropolitan area. Take a drive through the Airpark and you'll find some of the most beautiful new buildings built over the last few years:
The Chateau Luxe Event Center in Spectrum Ridge: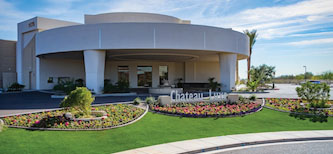 The New FBI Building at 7th Street & Deer Valley:

The Mahoney Group Building at 19th Ave at Loop 101:
USAA Phoenix Campus:

Since the completion of Loop 101 in 2001 connecting Deer Valley Airpark to Scottsdale and Glendale/Peoria the Airpark has transformed into something much more similar to Scottsdale Airpark than the heavy industrial setting of the past. The appeal of easy access via Interstate 17, Arizona State Route 51 and LOOP 101, to every part of the Phoenix Metro market has created an explosion of growth over the last two decades. Every type of business has moved into the area, with many locating their corporate headquarters in the airpark.
With the amenities of the Deer Valley Airport, easy freeway access and room for growth with very competitive pricing on land and buildings, the future of Deer Valley Airpark looks very bright. We anticipate very strong growth in the airpark over the next decade and this will remain a great area to move to, set up shop in or invest in.