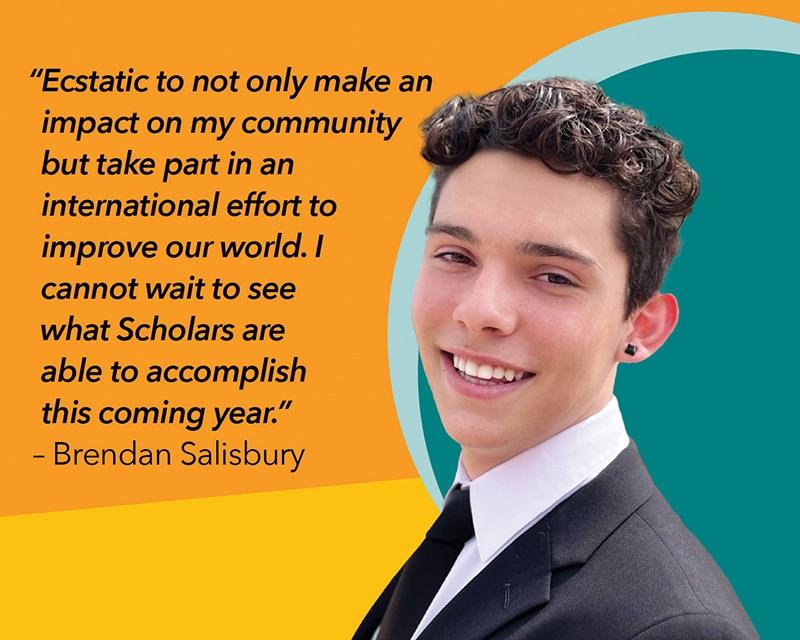 Photos courtesy of Deer Valley Unified School District
A distinction has been bestowed upon Barry Goldwater High School's senior Brendan Salisbury. He stands as the only student from Arizona chosen as a 2023 Bezos Scholar, marking only the second time a student from the state has been selected in the program's history.
This elite recognition is only given to 12 students across the United States, and Salisbury will be joining the ranks alongside his nominated supporting educator, Victoria E. Muñoz.
The Bezos Scholars Program (BSP), founded in 2005 by Jackie and Mike Bezos, is not just another student accolade. It offers a year-long leadership development program, providing students the resources and training to implement projects that stimulate positive change in their communities.
Salisbury's inclusion in this elite cohort resonates with his fervor for community engagement, especially in the realm of mental health. He has expressed his commitment to addressing the challenges of teenage mental health and his visionary approach to establish wellness centers across all Deer Valley Unified School District (DVUSD) high school campuses. This passion does not end there. Salisbury envisions a nationwide initiative: a joint foundation between state hospitals and their respective neurological institutes, designed to foster research and holistic treatment centers for those with neurodevelopmental disabilities.
On his selection, an elated Salisbury comments, "I am ecstatic to not only make an impact on my community but take part in an international effort to improve our world. I cannot wait to see what scholars are able to accomplish this coming year."
The multifaceted senior is not just confined to academia and advocacy. Salisbury's interests sprawl across a gamut of activities. Whether it's hip hop dancing, horse riding, or being a part of Arizona's All-State Show Choir, Salisbury exemplifies versatility. Fluent in Spanish, he celebrates the multicultural upbringing he's been privileged with.
Muñoz, known as Vicky, will guide Salisbury through the BSP journey. An IB Spanish teacher and World Languages Department Chair at Barry Goldwater High School, her story began in El Salvador. She migrated to the U.S. at 14. Her passion for global cultures resonates in her teaching methods, and her commitment to the environment is evident as the Eco-Squad sponsor at her school.
The Bezos Scholars Program experience begins with virtual community-building exercises, followed by an all-expenses-paid trip to the Aspen Ideas Festival. Here, students undergo rigorous leadership training, panel discussions, and engage in conversations with acclaimed global leaders. Following this intensive experience, scholars are tasked with launching sustainable community projects, transforming their communities one step at a time.
These projects, unique to each scholar's passion and community's need, span a range of issues. From the climate crisis, gender and education equality to financial literacy, these initiatives have been addressing some of the most pressing concerns of our time. Since its inception, nearly 200 projects have been greenlit, thanks to the BSP.
In the upcoming spring, Salisbury's accomplishments will lead him to the White House, where he'll be meeting President Biden and Vice President Harris to discuss his trailblazing project on mental health.
For those eager to track the success and journey of Salisbury and other Bezos Scholars, the Bezos Scholars Program remains a testament to the belief that young minds can, and will, shape the future.
For more information, visit bezosscholars.org.