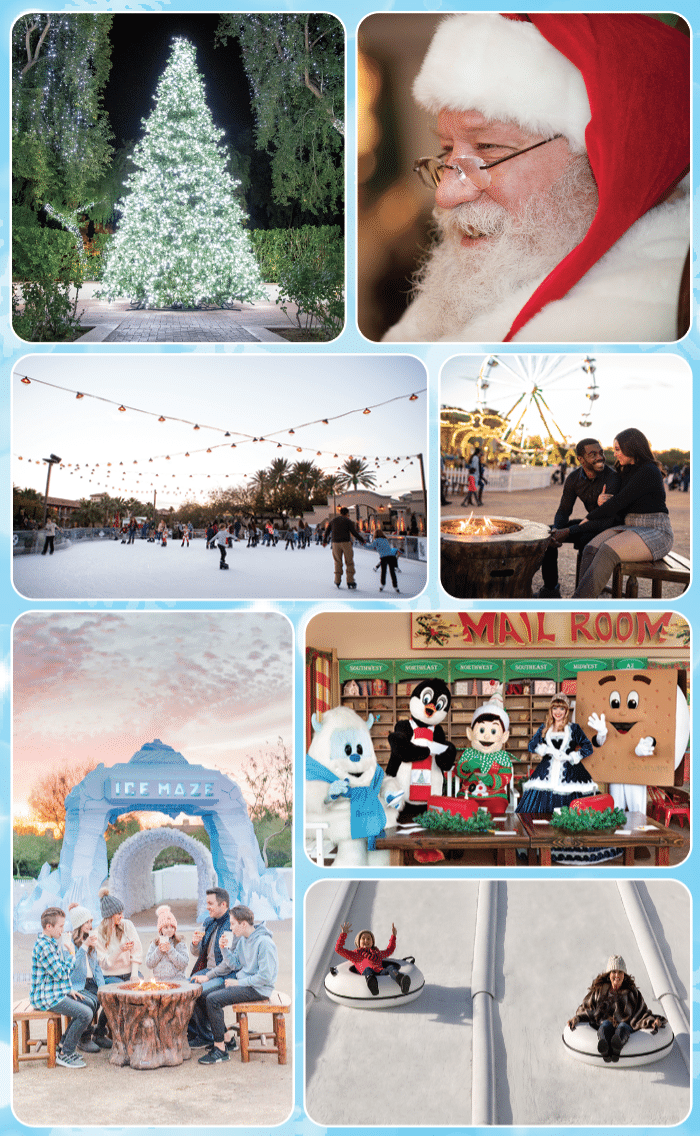 Photos courtesy of Fairmont Scottsdale Princess
Amidst the sun-soaked vistas of Scottsdale, Fairmont Scottsdale Princess is gearing up to transport its visitors to a twinkling winter wonderland. As the calendar pages flutter towards the end of the year, Christmas at the Princess returns, and this time, it promises a sprinkle of extra festive magic.
Now, if you think you've experienced all that Christmas at the Princess has to offer, 2023 has a frosty surprise in store. Introducing Aurora Ice: Scottsdale's dreamy escape into an Arctic paradise. Shed the desert warmth, don an ultra-plush faux fur parka, and immerse yourself in an icy wonderland. Imagine stepping into a realm where the temperature is a crisp zero degrees, and the ambiance dances with the mesmerizing hues of the Northern Lights. Here, the walls tell tales of hand-chiseled ice artistry, where every sculpture promises a photo op fit for a festive postcard. Engage in the merriment of 'reindeer games' — where the spirit of woodland caribou ensures a blend of laughter and friendly competition. And, as the evening matures, sidle up to the ice bar. Let the warm embrace of hot craft cocktails melt away any lingering frost, creating moments that are both heartwarming and chill.
Early birds, rejoice! Through October 31, Arizona's favorite Christmas attraction is presenting a holiday deal to make even Santa envious. Imagine cozying up in the resort's luxurious rooms with a generous 40% off on overnight stays or exploring the enchanting property with 30% off admission tickets. But that's just the beginning. The brand-new, shimmering Aurora Ice Lounge + Chill Experience is up for grabs at a cool 40% discount, while the whimsical Ultimate Santa Experience sees a cheerful 30% slashed off. And for those who love snuggling beside the fire? Discounts are warming up fire pits, ensuring your evenings are toasty and memorable.
Special mention to the loyalists: if you're an ALL Loyalty Member, the sleigh of offers comes to your doorstep even earlier. And if not? Well, there's no time like the present to join this merry brigade and secure a festive first-row seat.
This year's offer isn't merely about savings; it's an engraved invitation to begin festive celebrations with flair. To secure not just discounts, but moments. Moments that, ensconced in the lap of luxury and festive brilliance, promise to turn into cherished memories.
So, what are you waiting for? The yuletide magic at the Fairmont Scottsdale Princess beckons. A blend of tradition, innovation, and sheer festive joy, it's an event that guarantees stories, laughter, and a sparkle that'll light up your holiday season.
For those eager to experience this festive saga, every detail, every whisper of snow, and every glint of fairy lights is chronicled at christmasattheprincess.com. Book now and let the Christmas bells ring in early!