By Scott Gaertner
Below is a graph of the "active" 85266 listing counts over the last five years (active listings are homes currently available to be purchased.) As you can see, active listings have been about 20% below average in Scottsdale North for almost all of 2019. Some communities are much lower than that!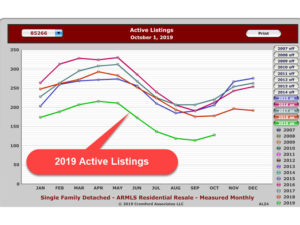 Low supply puts a lot of stress on the market. Buyers who want to be in a community can't find anything, and when something does come up, it is gone quickly. Sellers know they can sell their home, but they have the stress of how to price the home accurately. In this kind of market, comparable sales can be a confounding guide to choosing a price. A quick Google search on overpricing your home will reveal how destructive this error can be. So how do they pick the right price?
We are firm believers that given the opportunity, the market will always find its level and set the appropriate price…but it has to be given the opportunity. A home in Terravita sold for at least $100,000 less than our buyers would have paid for the home, but they never got the chance. It was gone before they even knew it was listed.
For the market to function, all potential buyers must be aware that the home is available.
Is there a better way?
Our marketing solution is an all-out multimedia onslaught in advance of the home hitting the market, which leads to an event where all the buyers see the home all AT THE SAME TIME. It gives everyone an equal chance to vote on the value.
Here we have an advantage. We have been exclusively focusing on the Scottsdale North area for so long, that we have the systems in place to get our message heard. We have vast lists of prospective buyers, homeowners and agents to send eblast messages to. We use this newspaper (see the back page) and our social media sites, as well as our long-established relationships with internet real estate websites like Zillow, Trulia, Redfin, etc. Maybe a story from this summer will illustrate it best…
I sold Cathy G. and her husband their home 20 some odd years ago, but now he is gone, and the house was just too much. Cathy called me because she had found a home she had to have, but she couldn't handle owning two homes. I told her that we had two problems: in this market, sellers accepting contingent offers were very rare, which would make it hard for her to buy a home. And July was not an ideal month to sell her Scottsdale North home. But she wanted the home, so we went to work.
We began with a teaser announcement to our database before we even started the process. Her home was beautiful and always immaculate, so home prep was fast and complete in week one. During week two, we assembled a fantastic presentation that spotlighted all of her best-selling points and shaded the weaker ones. We then decided on a price that made me a bit uncomfortable, because I honestly had no idea how much interest we could generate in July. By the end of the week, we began the internet, social media, and email blitz. Wednesday of that week, the home went into the MLS, clarifying that there were to be no showings until the open house on Saturday, and all the offers would be reviewed on Sunday.
The open house was a zoo, and we accumulated multiple offers – most above list price. Ultimately, Cathy chose one $27,000 above her asking price, and it wasn't even the highest offer! She was confident that the buyers would actually perform, and they allowed her to stay in her home for a couple of weeks after we closed escrow.
As you can see, our technique worked for Cathy, but this is certainly not the only solution – however through much trial and error over many years, this is the best we have found.
Here's the point—you don't have a Black Friday sale without a build-up of promotion. Apple has been pre-marketing iPhones successfully for years and turned this marketing approach into a work of art! If this technique is essential for smaller products like those, doesn't it make sense for the most significant asset most of us own?
If you have an interest in selling, give us a call and let's discuss it. And if you are buying a home, give us a call too. We can show you how to reverse the advantage in your favor.
Scott Gaertner is an Associate Broker with Keller Williams Northeast Realty, who for the past 25+ years has helped more people to find their lifestyle niche in the Scottsdale North area than anyone else.