By Michelle Talsma Everson
Steve Yagudayev, CEO of Iron Doors Arizona, knows his way around entryways. The owner of Iron Doors Arizona, LLC, for the past four years, Yagudayev has worked hard as the business has become the largest iron door company in the state with Arizona's largest showroom, too.
"At Iron Doors Arizona, we design and manufacture the finest handcrafted iron entry doors, custom gates and high end garage doors," Yagudayev explains. "We are successful in providing our customers with personal detailed service and beautiful, quality products."
"Our iron doors are designed to meet the highest standards of beauty and security. We have hundreds of existing designs but also work closely with homeowners, builders, and architects to create custom designs," he continues. "We specialize in creating custom sizing that will add lasting curb appeal to your home. Customers can choose from many different finish options. All of our wrought iron doors include the threshold as well as all weather stripping."
Not only does Iron Doors Arizona provide iron doors for Arizona residents, but they ship doors nationwide. At any point, their warehouse and showroom has more than 500 doors in stock, Yagudayev says.
"Customers can literally watch their home or business transform with our help," he explains. "Our doors are hand-crafted in a specialized factory with quality management every step of the way. We bring with us a team of highly skilled metal workers, iron forgers, and design consultants whom have a deep understanding and a rich history in the art of forging iron. Our products are hand crafted with the finest steel, exterior artisan paints, and engineered glass."
So what is the difference between an iron door and a traditional wooden door that most homes and businesses have?
"Wood doors need extensive maintenance and are prone to sagging, drooping and changing shape," explains Yagudayev. "Wood doors must be stained and sealed every few years to prevent rotting and keep them looking good. Any door over eight feet tall probably does not have a warranty. Our iron doors need no maintenance, will not change shape or warp, and come galvanized for marine grade corrosion protection."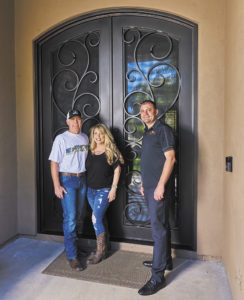 The family-owned company, which is home to about 30 employees and sells between 90-100 doors a month, specializes in helping customers pick out the perfect door for their needs, he adds.
"Helping customers upgrading their home with spectacular custom iron doors is rewarding for all of us," Yagudayev shares. "Customers can personally see numerous doors in our showroom. We highlight the many different finishes, sizes, styles and options to choose from to customize the doors of their dreams. At Iron Doors Arizona, we show our customers the many different types available for purchase so they can see what the finished product will look like."
"We know it can be overwhelming to search for styles and designs to choose from, which is why we operate our showroom so you can get a better sense of what you like," he adds. "Customers can walk in and view the single and double options with delicate swirls and strong, modern, clean lines, and choose the ones that will perfectly suit their home or business."
Advantages of Iron Doors
"It's about more than just good looks with your iron front doors," Yagudayev explains. "We appreciate the time and effort customers put into customizing their choice and we want to make sure they understand the value they get when they add them to their home."
Some of the benefits of iron doors include:
• Customizable for any entryway, whether single or double.
• Rust-free iron with minimal upkeep necessary.
• Weather-resistant with extremely long-lasting materials.
• An instant boost to your property value.
• Competitive pricing and flexible financing.
Design benefits of iron doors include:
• No visible weld; they are always smooth.
• High-quality dual pane low-e glass with hand applied faux finish.
• Injected polyurethane foam into the door and frame.
• Heavy-duty weather stripping around jamb and glass frame.
• Single pane or dual pane glass based on needs.
• Pre-hung with flush bolts installed and pre-drilled for hardware.
• Solid threshold is integral to the frame.
• Solid 5/8 inch, ¾ inch and 1-inch scrolls welded to a heavy-duty tubing frame.
Custom and quality
"All of our doors, whether single or double, offer stunning style that incorporates seamlessly into your home and ranges from simple or modern to intricate or old-fashioned," Yagudayev says. "Curb appeal is instantly upgraded with handcrafted ironwork to create a showstopper that impresses guests, all while the sturdy wrought iron keeps unwanted visitors out of your home for an added sense of security."
Each door they design comes with a limited lifetime warranty; the best on the market, Yagudayev explains. Also, there are no boring doorknobs here—Iron Doors Arizona is home to a large selection of hand forged door pulls that are designed to enhance the look of the doors.
Worried about ventilation? These doors, he explains, are meant to replace both the traditional wooden and screen doors. The metal screen is magnetic and easy to take on and off. "Our doors come with dual pane, low-e tempered glass – clear, frosted, patterned options – just to name a few," Yagudayev says.
If home or business owners are worried that iron doors may be hard to open, he says that couldn't be further from the truth. "With our special ball-bearing hinges these doors are easy to open and close. Some homeowners even claim that they are easier than their old solid oak doors!"
"When it comes to door design, the sky is the limit and we are experts regarding suggesting options and customizations," he continues. "We can easily create shapes — from rectangular to arched — and can use glass or screen paneling to put together the entrance of your dreams. Good news: there is no additional cost for a custom design! Our sales team is here to help with the design process every step of the way."
For those interested in adding iron doors to their home or business, he shares that custom doors have a turnaround time of approximately 10-12 weeks, and iron doors from the showroom are available in just a matter of days.
When it comes to giving back, Yagudayev and Iron Doors Arizona remain committed to their local community. A recent sale gave proceeds back to Phoenix Children's Hospital and, knowing today's current climate, Yagudayev shares that he is offering readers another sale: $500 off a single door and $1,000 off of double doors.
"We are a one-stop shop and the leader in the industry, which allows customers to easily choose the perfect door, and then schedule the install date," he says. "From manufacturing your chosen door, to completion of the installation and finishing work, we are with you along the way, communicating and providing professional customer service."
Looking for some design inspiration? Be sure to check out samples of their work, as well as amazing before and after photos at www.irondoorsarizona.com/gallery. Or better yet, visit their showroom at 11035 N. 21st Avenue in Phoenix.