By Frank May
If you ask a question like this to a realtor, the answer should be, "It depends. Why are you thinking of moving?" Once we know the why, then we can answer the question.
I had a client who wanted to sell about five years ago because he thought the market had gone up so much it would soon crash (more than one person was thinking this if they had gone through 2005-2008). Nothing I could say would change his mind, so he sold and rented and waited and is still waiting. It was not a good time for him to sell.
If you are thinking of buying a bigger home here in the valley, then it is a good time because almost all of the homes are going up in value. If you are downsizing, then the same story applies. There is no need to wait for your home to go up in value because the other home you are going to be buying is going up as well. Get to where you really want to be and enjoy it as long as possible. And if you are happy where you are, great! Stay put…you live in a beautiful area of the country.
If you are thinking of selling…
Inventory is at the lowest level since 2005 in Maricopa county for single-family homes. In the Upper West Side (85383), single-family homes for sale reached 413 in August compared to 482 this time last year. While this may seem like a lot of homes for sale to most, the reality is, it isn't. To give you some perspective, below is a sales graph of active homes for sale year over year for the last five years.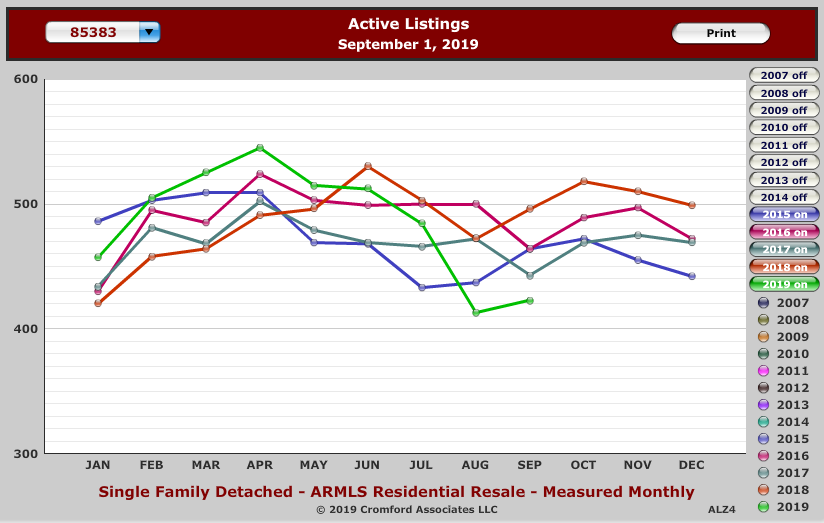 As you can see from the graph, inventory levels continue to drop (note: the green line is 2019) creating the demand we are seeing right now.
With inventory taking a dip, this demand is driving sales prices up. Home prices are seeing a peak in the past five-year trend, shown in the graph below.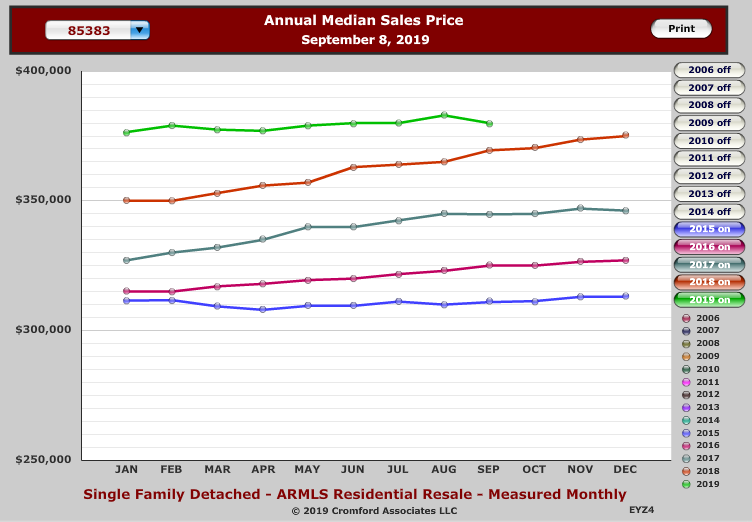 August home sales reached a median of $383,000, jumping $18,000 from this time last year.
Even with prices continuing to go up, there are still some good deals out there for buyers with homes a little less updated than others. Or you can also spend a little more upfront and get the home you desire, completely remodeled. The option is yours depending on how you want to spend your dollar.
This is great for sellers, but what does it mean for buyers?
Why would you want to purchase a home in this market? With prices continuing to rise and the interest rates incredibly low, your payment is possibly the lowest you will find for quite some time. The average rents this past month in 85383 are right around $1,951/month. If you are thinking of buying, my advice is to consult with a lender who you feel comfortable speaking with about your options. They will be happy to discuss your options and help you decide what is best for you. Your realtor should be able to connect you with a great lender who can guide you through the process as well.
As I mentioned above, you might be happy in your home and want to stay there for years. If that is the case, then I would also recommend speaking to a lender to check on whether refinancing is beneficial for you. If it is, then you could save thousands or even tens of thousands of dollars.
Essentially, now is a great time to buy, sell or refinance your home. Whether you work with me, or another Realtor, make sure you are working with someone who knows what they are doing. No one wants to schedule a surgery with a surgeon who just got out of medical school. You want someone who's been working in their field for years. Remember, this is usually your biggest investment and someone who has experience can not only make you more money but also protect you during the process.
Frank May grew up in the valley, graduating from Northwest Christian School and NAU. He is a real estate agent with Keller Williams Realty and has been helping both buyers and sellers for 18 years.