By Michelle Talsma Everson
Photos by Kimberly Carrillo
When locals pass by the Ace Hardware on 32nd Street, they've likely noticed the construction and growth. That is because, thanks to community support, the locally-owned hardware store is doubling in size—going from 10,000 square feet to more than 22,000 square feet. With perfect timing, this growth comes as Dave Karsten, owner of the 32nd Street Ace Hardware location, celebrates the 20th anniversary of his five Ace Hardware locations this month.
While many may assume that Ace Hardware is a national chain owned by one brand, it's actually the largest retailer-owned hardware cooperative in the world.Karsten owns five Ace Hardware locations across the Valley, including the growing North 32nd store. While each shop has a separate opening date, Karsten and his team plan to celebrate two decades in business at each location this month. In addition to the North 32nd Ace Hardware, Valley residents can find Karsten's Ace Hardware locations in Cave Creek, Carefree, Maricopa, and Goodyear.
"All Ace Hardware stores are individually owned and operated by local entrepreneurs and are supported by the national brand," Karsten says. "They are really good hardware stores and merchandise can look different at each location. Each location's team makes the difference; our emphasis at every location is 'neighbors helping neighbors.'"
Karsten adds that each of his Ace Hardware locations has their own "personality" based on the neighborhood the hardware store serves. For example, the Carefree location has more of a small town feel and is "definitely your hometown hardware store," he says. His oldest location, in Cave Creek, in addition to hardware, is also a full-service feed store with feed for horses, cows, chickens, goats, and more.
Most applicable to North 32nd residents is the North 32nd Street Corridor store, located at 10620 N. 32nd Street. The hardware store's growth gives local shoppers a lot more to choose from in the way of home improvement items and big brands.
"We have the motto, 'The best brands in one place,' and that describes our North 32nd location to a tee," Karsten says. "We are so thankful to the community for their continued support—they're the reason we're able to grow so much."
"With this growth at our North 32nd store, we will be expanding into more categories that haven't been included at this location before," adds store manager Andrea Theobald.
At the North 32nd Ace Hardware, you can find the best brands and services in:
• Automotive
• Automotive Key Shop
• BBQ brands including Big Green Egg, Napoleon, Traeger and Weber
• Cleaning Supplies
• Electrical
• Hand and Power Tools featuring Milwaukee, DeWalt, Craftsman, and more
• Hardware
• Home Décor
• Housewares
• Lawn and Garden
• Nursery
• Paint and Sundries
• Outdoor Living
• Plumbing
• STIHL and EGO Outdoor Power Equipment
• Swimming Pool Shop
• Window Screen Shop
"Our North 32nd shop, especially now that we've expanded, has the big power brands in all of the categories our customers expect, including barbecue supplies," Karsten says. "We've increased the gardening center, fasteners department, outdoor power equipment, and more."
Since the local Ace Hardware has grown, Karsten and his team are also looking for a few more "red vested heroes" for the sales floor. He shares that he and Theobald look for employees who are in alignment with their company's purpose and core values.
"All of our team members live up to our values of being 'the helpful place' and 'neighbors helping neighbors,'" he says. "Our purpose is to serve others. Of course, we want employees with experience in hardware and our other offerings, but that spirit of service is what's most important—we can train everything else."
Those wishing to apply at the North 32nd Ace Hardware store can find out more information by calling the store at 602-971-1036, visiting storejobs.acehardware.com, or asking about employment opportunities in-person.
With an emphasis on community, Theobald adds that North 32nd customers recently raised $19,000 for local nonprofits by rounding up their totals at the register. "We are so thankful and appreciative of the North 32nd community—they are such big fans and supporters of local businesses that it truly makes a difference," Karsten says.
To learn more about the North 32nd Ace Hardware location, follow them on Facebook @paradisehillshardware, call 602-971-1036, or stop by in-person at 10620 N. 32nd Street.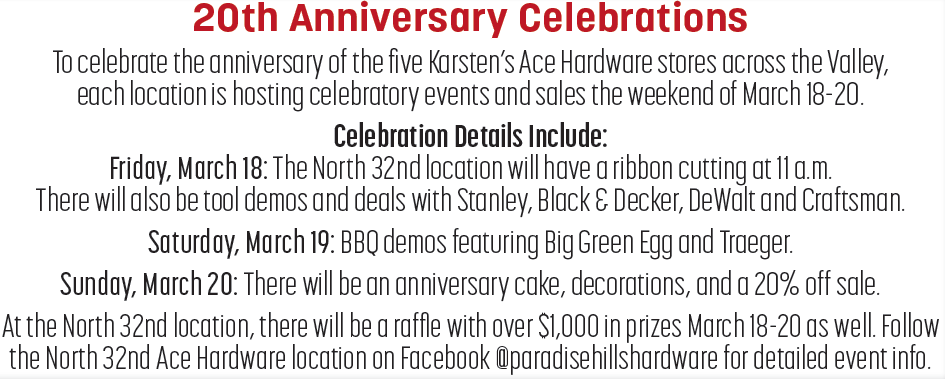 This content is sponsored by Karsten's Ace Hardware.