By Tamara Webb,
Director of Operations, OCJ Kids
As the holiday season approaches, the focus of OCJ Kids remains the same: to impact Arizona's foster children and create memories to last a lifetime. Since 2006, OCJ Kids has provided opportunities for our local community to wrap around Arizona's foster children who currently live in group homes.
Arizona currently has more than 15,000 children in the foster care system. Many of those children do not live with a traditional foster family, but live in group homes. OCJ Kids works with the group homes and with local Department of Child Safety offices to bring hope to these children.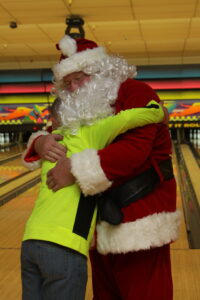 As children enter the foster care system they often come with only the clothes on their back. From the moment children in Arizona enter foster care until the time they leave the system, OCJ Kids is involved in bringing hope to them. Diapers, wipes, pajamas, hygiene products and clothing are provided as they enter foster care. Transition suitcases filled with supplies and resources are provided to teens as they leave the system at 18. Every year, OCJ Kids hosts a career development fair, cowboy camp, back to school celebration, and Christmas bowling party.
During this COVID-19 pandemic, OCJ Kids provided toilet paper, paper towels, and cleaning supplies to group homes that were unable to locate these items. We have provided hundreds of cloth face masks, made and donated by our volunteers, hand sanitizer, and sanitizing spray for the group homes. As the schools begin opening and children return to the classroom, OCJ Kids is providing school supplies along with the necessary personal protection equipment required by the schools.
On December 12 – 13, OCJ Kids will host our annual One Bright Star Christmas Bowling Party. Over the two days, more than 500 foster children and teens will have the opportunity to bowl, visit with Santa, and receive gifts from their wish list. You can be a part of creating memories and bringing hope to Arizona's foster children. To purchase a gift for a child, visit Amazon's charity wish lists and look for OCJ Kids One Bright Star. Your purchase can be shipped directly to OCJ Kids.
OCJ Kids is a qualified foster care organization. As an Arizona tax payer, you may be eligible to receive a dollar for dollar credit on your 2020 Arizona state taxes when you donate to OCJ Kids. The Arizona Tax Credit allows taxpayers to decide where their tax dollars are going to be spent by choosing a qualified charity to donate your tax dollars. Individual tax payers may donate up to $500 and joint filers may donate up to $1,000. To make your Arizona Tax Credit donation, visit ocjkids.org/donate.