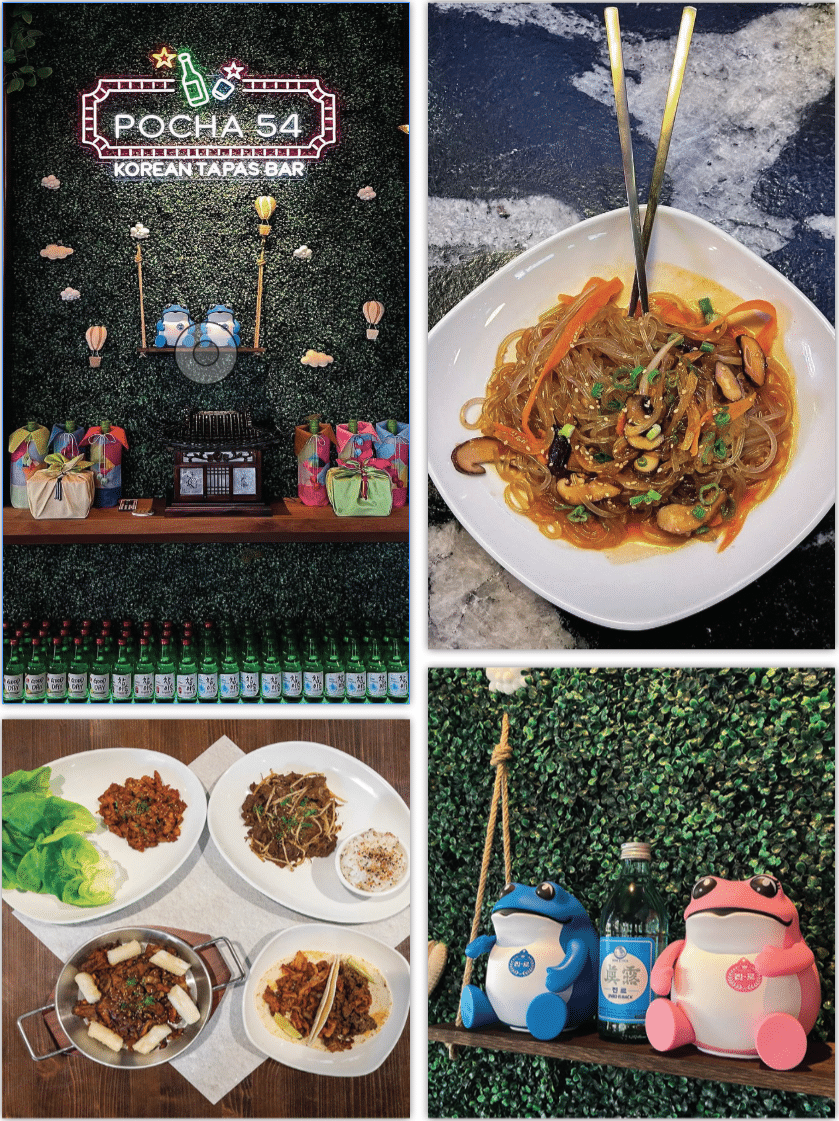 By Paige Sprague
Photos courtesy of Pocha 54
Pocha 54, a newly minted Korean-style pub on High Street marks an innovative and much-needed twist in the city's culinary scene. Set in High Street, located in the lively southwest corner of the Loop 101 and 56th Street , Pocha 54 adds Korean flavor to Phoenix's robust gastronomic tableau.
Taking over the space of the former Patio 54, the establishment channels a hip, sociable ambiance — a nod to South Korea's passionate late-night drinking culture. The establishment's charm lies not just in its atmospheric allure, but also in its daring culinary offerings.
With a menu boasting more than 30 shareable anju (Korean small plates), Pocha 54 satisfies a spectrum of palates. The Korean-spiced edamame, a flavorful appetizer priced at $5.54, primes your palate for the gastronomic journey ahead. The gochujang Brussels sprouts, kimchi fried rice, and crispy mayo shrimp are not just a testament to the flavors of Korea but also a challenge to your culinary curiosity.
For a more communal dining experience, opt for one of the four hot pot varieties. These simmering pots of richly flavored broth packed with choice ingredients promise an authentic Korean dining experience.
The drinks menu is equally impressive, presenting a range of soju and sake. Korean-brewed beers, such as the unpasteurized pilsner Cass and Terra, a lager brewed with Australian barley, underscore the authenticity of Pocha 54. Their signature Pocha margarita offers a delightful fusion spin.
Patrons also laud the restaurant's service. The staff's cordiality and their insightful walk-through of the menu enhance the overall dining experience. A customer review describes their experience during the soft opening on April 27, applauding the restaurant's vibe, its music selection, and even its Instagram-ready aesthetics.
Customer favorites include the Korean taco with bulgogi, the texturally appealing sotteok kochi, and the kid-approved Spam musubi. The front door's modern design, coupled with K-pop music, creates a dynamic, energetic atmosphere, standing out in stark contrast to the more subdued establishments nearby.
Open from 4 p.m. to 11:30 p.m. Tuesday through Saturday and 4 p.m. to 10 p.m. on Sunday (closed Mondays), Pocha 54 is a High Street high note, lending an eclectic, vibrant culinary addition to the area's gastronomic landscape. Its commitment to offering a fusion of traditional Korean and modern tapas-style cuisine earns it a try. This is indeed a gastronomic destination that's worth supporting. For more information, visit pocha54.com.