By Scott Gaertner, Associate Broker
I am happy to share that this is the best Scottsdale year-end market update ever. Even better than the fake money days back in 2005, where if you could prove you had a pulse, you could get a loan and buy a house. This year is better and the sales are real.
Here are some Scottsdale North real estate highlights from 2021:
• 2021 saw the most Scottsdale North homes sold in 10 years.
• The Scottsdale North average home price went up 26%. • The Scottsdale North average price per square foot is up 22%.
• The average home price was $1,191,069.
• 253 homes sold at over $1 million.
• The highest sold price was over $10 million, and the lowest sold price was $279,000 in Scottsdale North in 2021.
As usual, most of the appreciation came in the first quar- ter. We saw some early weakening of the market in mid- 2021, yet the low level of homes coming to market in the fourth quarter could not exceed a demand that remains a bit above normal. The end of the year saw an uptick in appreciation again as inventory shrunk still further.
WHERE IS THE MARKET HEADED?
Given the unprecedented strength of last year's real estate market, a slowdown feels long overdue. But thanks to supply remaining stubbornly low (2022 began with the lowest number recorded), the expected cooling off is not showing up just yet.
Tina Tamboer of the Cromford Report had these thoughts: "It's an accepted opinion among local analysts that income levels in Greater Phoenix cannot sustain another year of 28% annual appreciation, especially
if interest rates continue to increase. However, seeing there is little relief from home builders adding more supply to the equation, it's reasonable to expect the market to respond with a softening of demand."
That might sound a bit foreboding, but the Scottsdale North inventory remains staggeringly low.
INVENTORY IS LOWER THAN IT'S EVER BEEN
The chart below shows the lowest number of active listings ever in 85266. Today we are below that number. Without a significant increase in the number of homes for sale, any hope of halting the brisk rate of price increases is likely to be crushed. This remains true even in a higher interest rate environment because demand is not the controlling factor.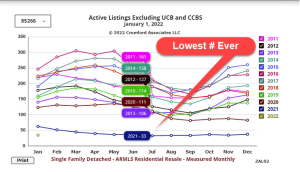 SO WHEN DO YOU CASH IN?
Does it make sense to sell? Well, it certainly doesn't make sense to let the higher prices keep you from buying. After all, a rising tide lifts all boats, and you will get a lot from the sale of your home. Bear in mind that you are suddenly a buyer at these new higher prices unless you rent for a while. If you are going to a rental situation or moving to another state, it is probably better to wait as prices will likely continue to rise.
WANT TO PULL EQUITY OUT OR DOWNSIZE?
If you want to pull some equity out of your home so you can travel or just downsize, we can help with that. We recently had a couple come to us with precisely this request: "We want to stay in the area but cut our home investment by $300,000 so that we can travel and enjoy our lives a bit more." We moved them just nine miles away from Scottsdale North to a home with almost the same square footage – but it was 12 years newer than their Scottsdale North home – for almost exactly $300,000 less than the home they sold. They love their new home and now they can see the world together.
CAN WE HELP YOU?
In 2021 your Scottsdale North neighbors trusted us to list their homes over three times more often than any other agent. On a price per foot basis, we averaged $126,000 more for their homes than the average
sale and almost $12 per foot more than our closest competitor.
WE HAVE YOUR BUYER!
While we sold the most in 2021, it could have been many more! We have 1,606 buyers in waiting who need homes. Many are willing to purchase with no repair requests, above market, pick your closing date, or even allow you to stay in your home. If you have any thoughts of selling, give me a call at 480-634-5000.
Scott Gaertner is an Associate Broker with Keller Williams Northeast, who for the past 35+ years has helped more people find their lifestyle niche in the Scottsdale North area than anyone else. He also contributes his thoughts on the real estate market and lifestyle interests in the area and is the creator of ConnectingScottsdaleNorth.com. For additional info, visit ScottGaertnerGroup.com or call 480-634-5000.