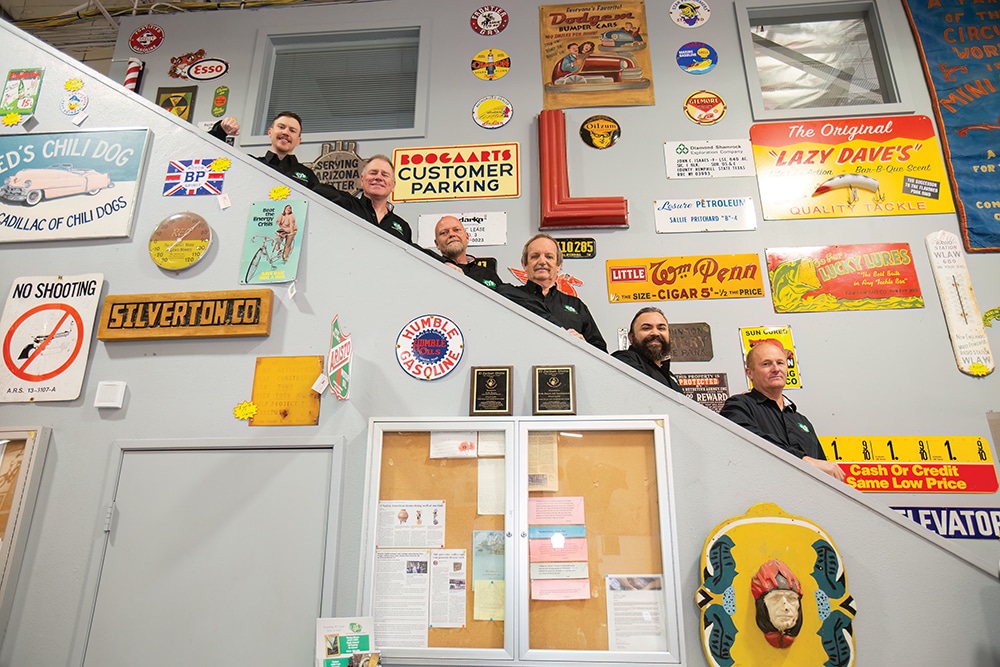 Photos by Kimberly Carrillo
When it comes to mistaking something valuable for junk, Erik Hoyer, CEO of EJ's Auction & Appraisal, likes to tell his dumpster diving story. Shortly after he opened his full-service auction house in 2013, he had an appointment to help assess the valuables of an estate. As he pulled up to the home, he saw a mid-modern chair and ottoman in the dumpster. Before ringing the doorbell, and despite being dressed in a suit and tie, he climbed into the dumpster to retrieve the chair. He presented it to the owner's children and told them they just threw out a Herman Miller chair that was worth several thousand dollars. Sure enough, even though the chair was worn and scratched, it sold at auction for $6,000 a month later.
"Many people mistakenly discard old items, thinking they have no value," Hoyer says. "Whether you're downsizing or helping a loved one liquidate an estate, take time to research the value of your collectibles."
Hoyer acknowledges that the decision to hold onto or sell antiques, fine art, collectibles, or a family heirloom can be confusing. It's one reason why the Glendale auction house hosts free monthly appraisal fairs. And there's never a charge for EJ's consignment specialists to visit an estate to provide a pre-auction verbal assessment for larger collections.
EJ's Auction & Appraisal averages 200 auctions per year, with most of the online auctions taking place on Saturday mornings at 10 a.m. and at noon every other Friday. With registered bidders worldwide, EJ's reaches qualified bidders who have a strong interest in purchasing fine art, antiques, jewelry, furniture, firearms, and other collectibles.
Bidders can preview each week's auction items at EJ's from 9 a.m. to 5 p.m. Wednesday through Friday, or view photos online and request condition reports prior to the auction.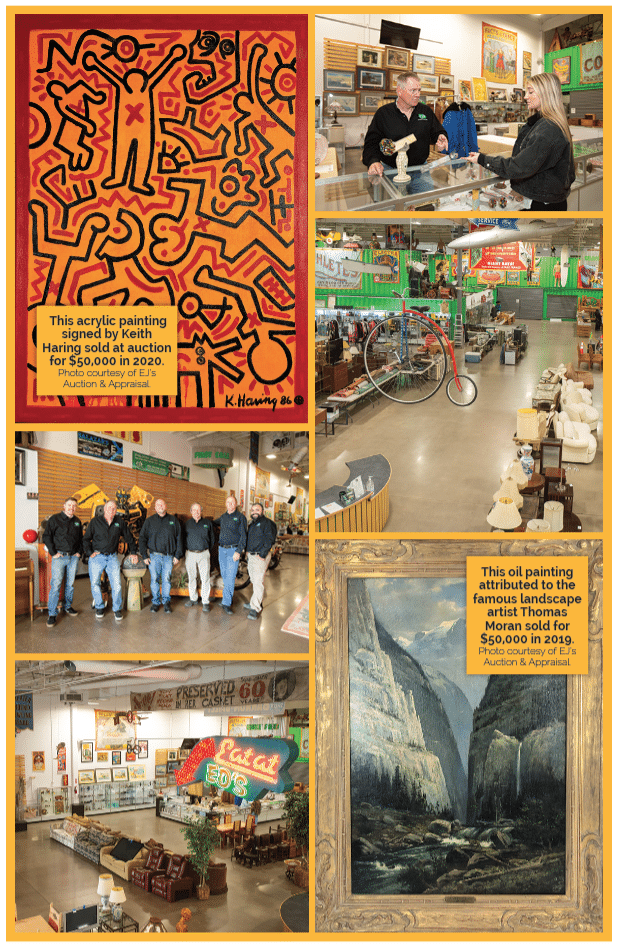 Exciting Bidding Frenzies
Over the past decade, Hoyer and his team of 30 employees have witnessed several exciting bidding frenzies over everything from fine art and cherished antique heirlooms to vintage toys, motorcycles, gold and silver coins, and even unusual pieces, such as vintage carnival freak show items and antique medical oddities.
"I'm always fascinated to learn the story behind a collection," Hoyer says. "Many of our consignors spent a lifetime collecting, and they often keep their valuables in mint condition."
Sometimes, Hoyer and his team will find valuable items in storage units or hidden away in a closet or desk drawer. "In those instances, we'll do our due diligence to establish provenance and research the item's value," he says.
One item that had a bidding frenzy was an acrylic Keith Haring painting that sold for $50,000 in 2020. The image measured 35.75" x 25.5" and it was signed on the bottom right with a personalized note on the back of the canvas along with a second signature. Hoyer retained the services of a forensic document examiner and an experienced expert witness to examine the handwriting prior to the auction.
Another painting that generated a lot of interest from bidders was an oil painting attributed to the famous landscape artist Thomas Moran that sold for $50,000 in 2019. The framed painting, "King's Canyon," was a family heirloom for 60 years.
Hoyer says there are many factors that influence consumer behavior at auctions. Sometimes it's pop culture, other times it's nostalgia, and trends can also be affected by the economy and world events.
He offers these tips for estate owners interested in selling their collectibles:
· Don't hold onto collections too long. Just because someone spent a lifetime collecting, doesn't mean their items will always be valuable. For example, there's a big demand for toys and other items from the 1980s right now, but that may change as time goes by.
· Don't rely on older appraisals. A written appraisal from 10 or 20 years ago may not be valid today.
· Don't attempt to clean antiques. Sometimes cleaning can harm the item and bring down the value, especially if certain chemicals are used.
· Organize and bring in any provenance, or a record of ownership. These can include original receipts or documents showing where items originated, past owners, past repairs, photographs, and other important information.
For more details, or to schedule a free consultation, visit EJsAuction.com or call 623-878-2003.
This content is sponsored by EJ's Auction & Appraisal.