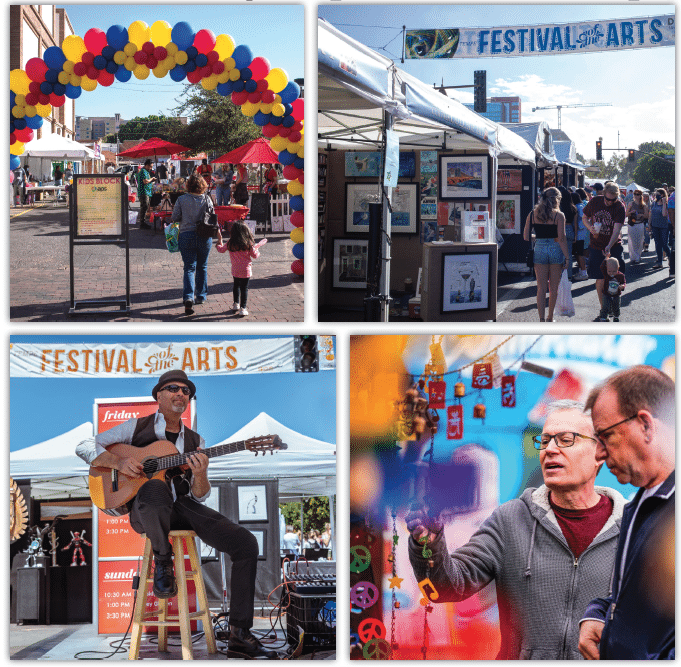 Photos courtesy of Tempe Festival of the Arts
The renowned Tempe Festival of the Arts returns for its 55th Fall edition, set to take place December 1 through 3. Celebrating over half a century of art, culture, and community spirit, the festival will once again transform downtown Tempe into a hub of artistic expression and festive entertainment.
The festival sprawls across the city streets of downtown Tempe, spanning Mill Avenue between 3rd Street and University Parkway and stretching over to 5th Street between Myrtle and Ash Avenue. With free admission, attendees can freely roam and experience the myriad of artist booths, savor delicacies from food trucks, enjoy live entertainment, and sample selections from beer and wine stands.
The Tempe Festival of the Arts has not only been a favorite among locals but has also gained significant national recognition. It ranks impressively among the Top 200 art festivals by "Sunshine Artist" magazine and boasts the prestigious Pinnacle Award from the International Festival and Events Association.
With the festival's reputation growing each year, it attracts a vast number of artist applications—over 1,000 this year from across the nation. A dedicated jury, comprising esteemed members of the local art community, sifts through the applications to select the top artisans from 18 varied categories. These categories span a broad spectrum from photography, ceramics, and woodwork to unique wearable art.
During the festival, another jury will have the task of selecting the best overall artist and the top artist in each category, further enhancing the competitive spirit and ensuring the highest quality of artistry is showcased.
While the main attraction remains the 300-plus artist booths lining Mill Avenue and surrounding streets, the festival is also a haven for entertainment. Over the years, the live stages have seen the likes of notable local talents such as the Gin Blossoms, Walt Richardson, Margo Reed, and Hello Swindon. Additionally, street performers, entertainment booths, vendors, and sponsor exhibits contribute to the lively ambiance.
In line with its community spirit, the festival also makes a difference by donating a portion of its proceeds to local charities.
Being one of the oldest festivals in the Southwest, the Tempe Festival of the Arts has a rich history. Held biannually in early December and late March, it has evolved into a significant point of pride for Tempe. Festival-goers revel in the offerings from national artists, local music, a dedicated Kids Block, and a plethora of food options—all set against the historic backdrop of Mill Avenue.
Artists from across the country will be converging at this year's festival, ensuring that it remains a beacon of artistry and community spirit. With its blend of history, art, entertainment, and philanthropy, the 55th Fall Tempe Festival of the Arts promises to be an event to remember.
For more information, visit tempefestivalofthearts.com.