By Louisa Ward
If you have decided to sell your home and are wondering if you should do it during the holiday season, I will give you some pros and cons to selling in December.
Here are some major advantages you can expect when selling your home during the holidays:
1. A lot less competition.
Housing inventory has been notoriously tight. And yet because rates have remained so low, promoting unprecedented affordability, buyer activity has stayed high. What does this mean for you as a seller? Selling your home during the holidays with even less inventory significantly thins out your competition. You'll be the big fish in a small pond, likely to get (many) more nibbles.
2. Extra-motivated buyers.
Due to low inventory, many house hunters may move quickly — and close quickly, to your advantage. And since the housing industry is slower overall during the holidays, loan officers are likely to approve and close qualified buyers faster.
3. Extra-motivated realtors.
In the seasonal slowdown, your realtor may have the time — and the creativity — to make your listing stand out even more. An agent working double-time when selling your home during the holidays might put more effort into photos and staging, or they may hand out freebies at a winter open house. Be sure to use a realtor that knows your neighborhood.
4. Lower interest rates.
Mortgage rates remain historically low, but by the end of the year, they're expected to slowly start to climb. This creates a unique window for homebuyers to save more money by acting now, instead of waiting until next year. Lower interest rates mean lower monthly mortgage payments that can entice more buyers to purchase — also benefiting you when you sell and buy your next house.
5. Buyers have more time for house-hunting.
Breaks from school and work leave motivated buyers with time on their hands. They'll not only be drawn to your home with that winter-wonderland-like curb appeal, twinkling Christmas lights and all, but they'll have the free time to browse listings and attend holiday-themed open houses. As a bonus, non-U.S. buyers who may not follow the same calendar could also be looking to buy.
Do Homes Sell During the Holidays?
To understand the number of homes sold in December versus other months, here is a chart that shows the average number of homes sold in each month over the five years in 85028 and 85032. Remember that these are stats showing closed homes, so the buyer's contract on this home was probably accepted around 30 days earlier. Therefore, January will show the results of how many homes have sold in December.
85028
The month of January shows to be the lowest of the year with only 89 closed sales and most of them are reflective of the buyer activity in December.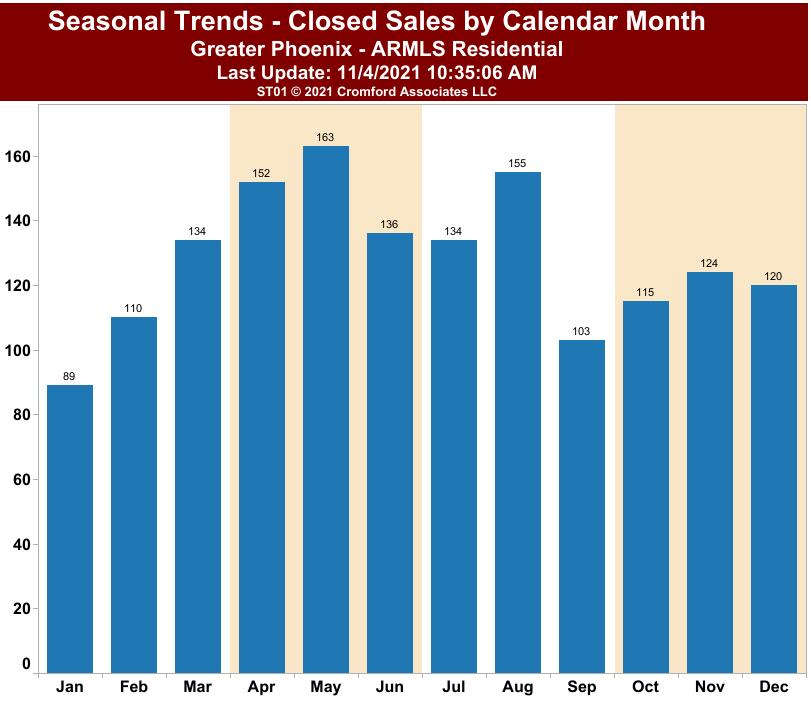 85032
The month of January shows to be the lowest of the year with only 258 closed sales and most of them are reflective of the buyer activity in December.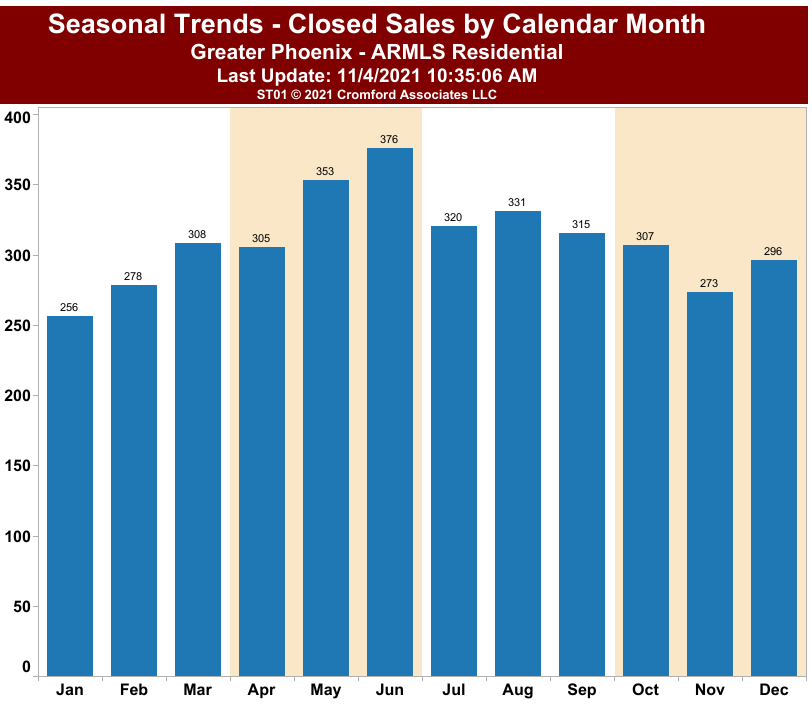 Can I Decorate My Home for the Holidays?
Decorating your house will allow you and your family to celebrate the season while also offering any potential buyers a festive experience and helping them to envision how the home will look dressed up for any occasion. Houses show better when decorated for the holidays.
However, if you do plan to decorate your home, home-staging experts suggest doing so conservatively and with the following tips in mind:
• Keep it secular to avoid putting off potential homebuyers of different religions.
• Stick to neutral colors and decorations that complement your current décor.
• Keep it simple. Decorations could give your home a cluttered appearance and pose as safety or tripping hazards.
• Avoid decorations that block or hide important features of your home.
• For security reasons, don't leave any gifts under your Christmas tree during showings.
Cons of Holiday Decorations
Some experts caution sellers to consider the implications of decorating before they do so. Some reasons include the fact that decorations may make your house seem small and cramped, or because they're too much of a distraction for buyers who are trying to envision themselves in the home. While it is impossible to define what would be offensive to every person in every market around the country, sellers should be mindful of who their potential buyers are and how their home and its decorations show.
Spread Holiday Cheer
If your neighborhood has Christmas festivities, leave information out for the potential buyers to see, like neighborhood block parties and neighborhood decorating contests. How about leaving info about the Cruisin' North 32nd Lights event? Show your buyers how active and neighborly the community is.
Bottom line: you don't have to pretend the holidays don't exist if your home is on the market this time of year.
Louisa Ward is a senior partner at My Az Realty Team and RE/MAX Excalibur. She is part of the Top 2 percent of Realtors in Phoenix and Scottsdale with 25 years of experience. Louisa is also an active member of the North 32nd community, serving as a local real estate expert, member of the PV Village Planning Committee, and a Mountain Preserve Block Watch leader. To learn more, visit MyAZRealtyTeam.com, call 602-769-6699, or e-mail MyAzRealtyTeam@gmail.com.