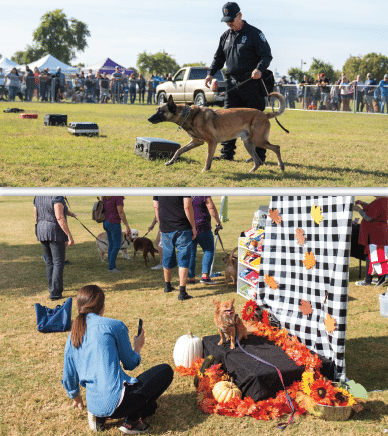 Photos courtesy of city of Chandler
Anticipation is ruff and running high as Chandler's beloved canine celebration, Woofstock, returns to Tumbleweed Park on Saturday, Nov. 18. From 9 a.m. to 1 p.m., dog enthusiasts and their furry pals will flood the park, located at 2250 S. McQueen Rd., for a day dedicated entirely to man's best friend.
Woofstock promises not just fun, but also an educative experience. The day's packed schedule offers a blend of activities, ensuring every visitor, be they two-legged or four, has a ball.
Activities Galore!
• Pet Adoptions: Give a furry friend their forever home.
• Discounted Vaccinations: Ensure your dog's health is top-notch.
• Pet Psychic Readings by Caroll Hensen: Dive deep into your pet's thoughts.
• Pet Caricatures: Immortalize your pet in art.
• Dog-Friendly Bubbles at Mini Dog Park: Runs every 30 minutes for 10 minutes, beginning at 9:30 a.m.
Dog Training Elite Demonstrations with Neal Mestas:
Neal Mestas, a prodigy in the world of dog training and the son of Dog Training Elite founder, John Mestas, will be showcasing his expertise at:
• 9:30 a.m. to 10 a.m.
• 11 a.m. to11:30 a.m.
• 12:15 a.m. to 12:45 p.m.
Having begun his journey at age 8 and boasting 30 years of experience, Mestas' passion for training is palpable. Along with Bailey, his rescued Belgian Malinois, he will conduct live training sessions, offering basic to advanced obedience and tricks. Attendees are encouraged to bring their dogs to the booth for a chance to learn some nifty tricks!
Chandler Police K9 Demonstrations:
The Chandler Police K9 Unit, comprised of five dual-purpose teams of the Belgium Malinois breed, will enthrall audiences with demonstrations at:
• 10:15 a.m. to 10:45 a.m.
• 11:30 a.m. to 12 p.m.
Expect to see explosive detection amidst multiple luggage pieces, narcotic detection on a vehicle's exterior, and two separate apprehension techniques. Post-demo, handlers will be available for audience queries.
Additionally, don't forget the Puparazzi Photo Contest, where Chandler's cutest canine will snag a prize worth $75. Whether you're a resident or just visiting Chandler, participation is open to all.
Delicious food and beverages will be available throughout, although attendees should note the absence of ATMs on site. Credit card acceptance may vary by vendor.
Woofstock's success is attributed to its sponsors, Semper Fi Cooling & Heating and Raising Canes, and the countless dog lovers making it the event of the year.
Set your paws to Tumbleweed Park this November 18. The park, the pups, and the trainers await! For more information, visit chandleraz.gov/events/woofstock.