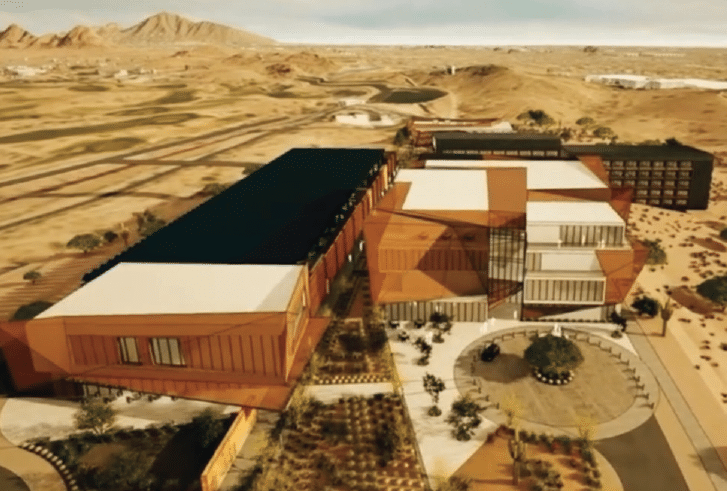 Photos courtesy of the city of Tempe
President Joe Biden, speaking from the Tempe Center for the Arts, unveiled a significant federal grant to the state of Arizona for the development of the McCain National Library at Arizona State University. Last month's event marked the first time a sitting U.S. President had addressed an audience within a city of Tempe facility.
The McCain National Library will serve as a lasting tribute to the late John McCain, a distinguished figure who represented Arizona as a congressman, senator, and a Republican presidential nominee.
President Biden referred to these plans as a fitting homage to his close friend, a fellow congressman, and an esteemed American statesman.
Ambassador Cindy McCain, Sen. McCain's wife, joined President Biden at the event, along with members of the McCain family, Governor Katie Hobbs, Phoenix Mayor Kate Gallego, Mayor Corey Woods, Tempe City Council members, and a capacity crowd at the Tempe Center for the Arts.
"Tempe was proud to welcome President Biden to our community and we look forward to the advent of the McCain National Library," says Tempe Mayor Corey Woods. "This facility will be an amazing resource for our community, and we are honored that Tempe will be forever connected to his legacy of country first." This project will revitalize a 22.5-acre area of ASU located near Mill Avenue and Curry Road, north of Tempe Town Lake.
The forthcoming 80,000-square-foot library will house archives containing Senator McCain's papers and materials from his extensive body of work in Arizona, Washington, and around the world during his tenure in office. Additional components planned for the site include a visitor's center and a local branch for the McCain Institute, headquartered in Washington, D.C., designed to serve as a center for solutions and a gathering place for learning about leadership, democracy, and national security.
ASU currently hosts an archive of the senator's papers from his public career, accessible to scholars, journalists, students, and the public for the study of his life and work. As the McCain Library project advances in design and construction, ASU will identify complementary programs, uses, and partnerships that can further enhance the site.
The ASU Foundation will initiate a fundraising campaign to support the site's development and expansion. The schedule and timeline for planning and development have yet to be determined.
John McCain served Arizona for 35 years, starting as a U.S. representative for two terms before becoming a U.S. senator in 1987, succeeding Barry Goldwater. He also ran as the Republican nominee for President of the United States in 2008. The McCain Institute, a nonpartisan organization affiliated with Arizona State University and based in Washington, D.C., continues his legacy.