By Louisa Ward, Realtor
I constantly get asked where I think the real estate market will be in the next few years, so here's my educated opinion based on careful and thorough study of the current and future Arizona economy and housing statistics.
Prices will likely continue to go up
The Phoenix Metro housing market has seen pricing go through the roof in the past 18 months with appreciation rates at 20% to 24% and a few spots as high as 35%. Prices will likely continue to go up, just given the fact that there's such limited supply out there, but it can't continue to appreciate at that same pace. I believe that pricing will stabilize and will come down to a steadier growth of 6% to 13% per year. Economists are leaning toward the lower end percent growth.
Inventory will not normalize, and we will remain in a state of low inventory
The demand continues to be high due to nearly 300 people a day moving to Arizona and the majority are coming to the Phoenix Metro area. However, there may be some minimal relief as surveys have shown that Baby Boomers are ready to start listing their homes. The Baby Boomers are age group 57 to 75 years old. The zip code 85028 has approximately 5,528 residents in this age group and 85032 has 11,993. This age group is looking to downsize, move closer to family, maybe move into a 55+ active living community or possibly an assistive living community. Those homes will be sucked into the extremely low inventory and will take minimal pressure off the buyers.
Mortgage rates will creep back up
Mortgage rates will increase from the record lows we've seen as the federal government begins to taper purchases of mortgage-backed bonds (mortgage interest rates loosely follow the yield on the 10-year treasury).
In conclusion, interest rates are increasing, prices are still increasing, and inventory remains low. No one should be waiting to make the move. It is not getting better, and with interest rates slated to increase, affordability is getting worse. If you are waiting for the "crash" to make a move, it may be a long time coming. Contact an experienced Realtor who understands our current market and make the move.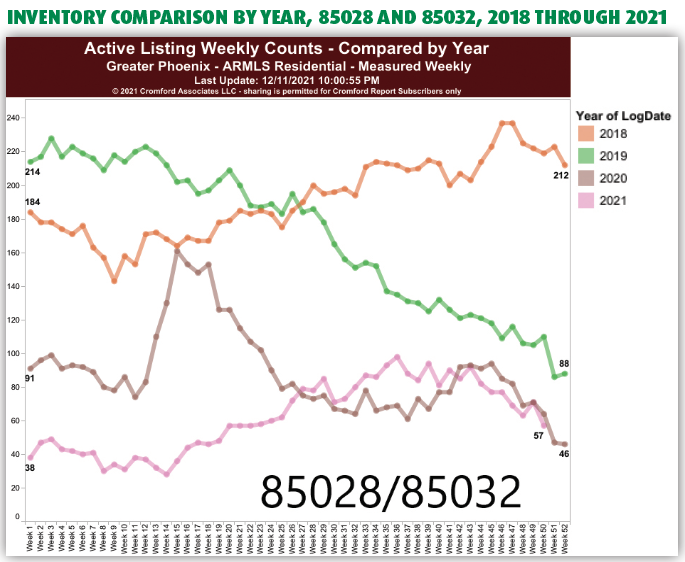 Louisa Ward is a senior partner at My Az Realty Team and RE/MAX Excalibur. She is part of the Top 2 percent of Realtors in Phoenix and Scottsdale with 25 years of experience. Louisa is also an active member of the North 32nd community, serving as a local real estate expert, member of the PV Village Planning Committee, and a Mountain Preserve Block Watch leader. To learn more, visit MyAZRealtyTeam.com, call 602-769-6699, or e-mail [email protected].