By Sondra Barr
Photo by Kimberly Carrillo
Hollywood. Venice. La Jolla. Chinatown. Wrigleyville. Lincoln Park. Desert Ridge. Arcadia. Biltmore. Ahwatukee. These divergent areas all have something in common. They are all cities within cities, but not actually cities at all. When those locations are mentioned, people living in the state they're located, or who've visited those spots, instantly recognize, and identify those places for their singular aesthetic and atmosphere.
Scottsdale encompasses 31 miles from its southern to northern-most edge and covers 184.5 square miles. Over the years, it's evolved into distinct areas that offer wildly different amenities to residents and visitors. While 30 years ago, North Scottsdale was considered anything north of Shea, that has since changed. Now the Scottsdale Quarter/Kierland area is considered Scottsdale's midpoint. Recognized for shopping, high-density living, and dining, it lacks the wide-open spaces that the area north of Pinnacle Peak Road embodies.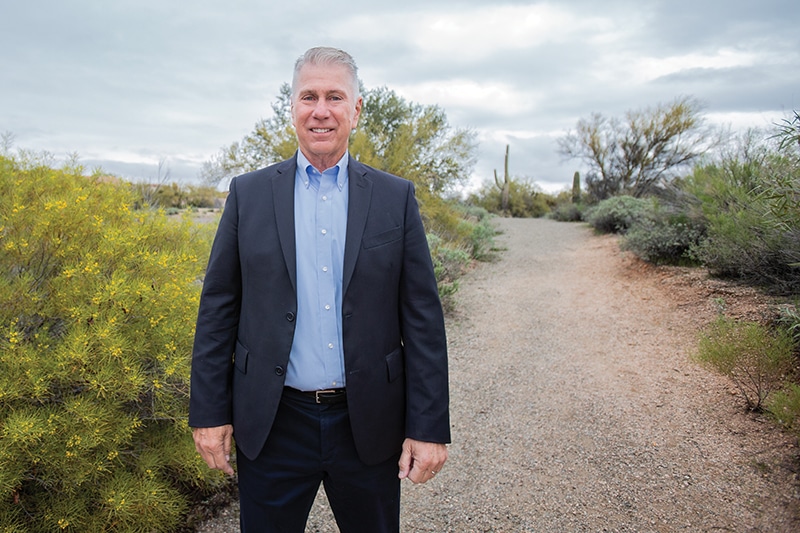 Realtor Scott Gaertner's mission is to encourage branding the area north of Pinnacle Peak Road 'Scottsdale North' to establish a unique, marketable identity to build recognition and credibility for the northern reaches of the city to promote it more effectively to potential residents, visitors, and businesses.
"The family and I were in California for spring break and the importance of non-city regions suddenly became clearer. Scottsdale North needs to become a reality. Naming the new park located near Ashler Hills to Scottsdale North Park is a great first step," says Gaertner. "As someone who has been closely involved in the design phases of this project, I can attest to the fact that this park will be an extraordinary addition to our community. By naming this park Scottsdale North Park, we are creating a powerful symbol that represents the unique character and identity of our community. This park will serve as a landmark that stands to define our area and make us all proud. It will be a place where residents and visitors alike can come together to enjoy the beauty of our community, connect with one another, and create new memories."
In the 30 years that Gaertner has worked in Scottsdale North, he's experienced the area's growth firsthand. Helping people discover the area he's so passionate about offers a myriad of benefits to residents and businesses alike.
"Many people's current definition of Scottsdale North is south of the 101 around Kierland. That's not close and not an accurate representation of where we're located," explains Gaertner, who has extensive knowledge of North Scottsdale's top lifestyle communities, gained from years of selling properties in the area. He's worked directly with developers such as Desert Mountain, Terravita, Winfield, and Trilogy at Verde River. As a residential broker, he helps lifestyle buyers find their niche in the area's offerings such as Mirabel, Troon, Estancia, DC Ranch, Silverleaf, Bellasera, Desert Highlands, Whisper Rock, and The Boulders.
"A brand helps a community to define who it is and what it stands for, creating a unique identity that distinguishes it from other communities," says Gaertner. "This can help residents feel a sense of pride and belonging, while also attracting others who share the community's values and vision."
"Scottsdale North is a name that people near and far would instantly recognize for what the area is, a unique neighborhood full of dramatic natural beauty, amazing restaurants, top golf courses, destination resorts, a plethora of outdoor recreation, one-of-a-kind housing communities, wide-open spaces, friendly residents, and so much more," says Gaertner.
A well-crafted brand can also help to encourage investment in the community, whether attracting new businesses, promoting tourism, or encouraging residents to invest in their homes and properties, which can lead to increased revenue and economic growth.
"Developing a brand can also enhance collaboration between different stakeholders in the community including residents, businesses, and local government. This collaboration helps to build a stronger, more cohesive community," explains Gaertner.
Branding Scottsdale North will also make internet searches of the area more accurate. Currently, if you type in "How do I spend a day in North Scottsdale?" into Google, the first recommendation is "Explore Old Town Scottsdale." Old Town Scottsdale is known for bars, nightclubs, and a party atmosphere and couldn't be farther from the relaxing, affluent vibe of Scottsdale North.
The "brand" Scottsdale North would join notable areas within Phoenix that include:
Downtown Phoenix: The city's central business district and home to many of its cultural and entertainment venues.
Central Phoenix: This area encompasses the neighborhoods surrounding Downtown Phoenix, including Midtown, Encanto, and the historic neighborhoods of Willo and Roosevelt.
North Phoenix: This area is generally considered to be north of Downtown Phoenix and includes neighborhoods such as North Mountain, Paradise Valley, and Desert Ridge.
East Phoenix: This area includes neighborhoods such as Arcadia, Biltmore, and Camelback East, which are known for their upscale shopping and dining options.
South Phoenix: This area includes neighborhoods such as South Mountain and Laveen, which are known for their outdoor recreation opportunities and rural character.
West Phoenix: This area includes neighborhoods such as Maryvale and Estrella Village, which are known for their affordability and cultural diversity.
"Let's add Scottsdale North to the list," says Gaertner. "Scottsdale North: This area includes affluent neighborhoods including Desert Highlands, Legend Trail, The Boulders, and Winfield, and is known for renowned golf courses, an expansive desert trail system, luxury resorts, fine dining, and wide-open spaces."
To further this initiative and because he's so passionate about the area, Gaertner has created the Connecting Scottsdale North website and Facebook page. He was also instrumental in the formation of "Scottsdale North News."
Connecting Scottsdale North is a resource for residents and businesses in the community to connect with each other, share information, and learn more about what's going on in the Scottsdale North community, it's also a resource for planning community coffee talks, small business networking meetings, and a way to maintain a small town feel within a big city.
"We need to take this task into our own hands if we want the change we seek to come about. The good news is, there are several ways we can start to take action to have Scottsdale North properly defined and connected to the rest of the Valley," says Gaertner, who recommends naming the park to Scottsdale North an ideal first step.
How can you help to get the new recreational facility named Scottsdale North Park? Here are some suggestions:
Write to media outlets and urge them to get involved in the naming of the park. Attend city meetings and write to your representatives: The more involved we are as a community in the meetings, the more we can start to create a voice for the neighborhood. Share information on social media and patronize and promote local businesses both in and out of the neighborhood.
To learn more, visit connectingscottsdalenorth.com.
This content is sponsored by Connecting Scottsdale North