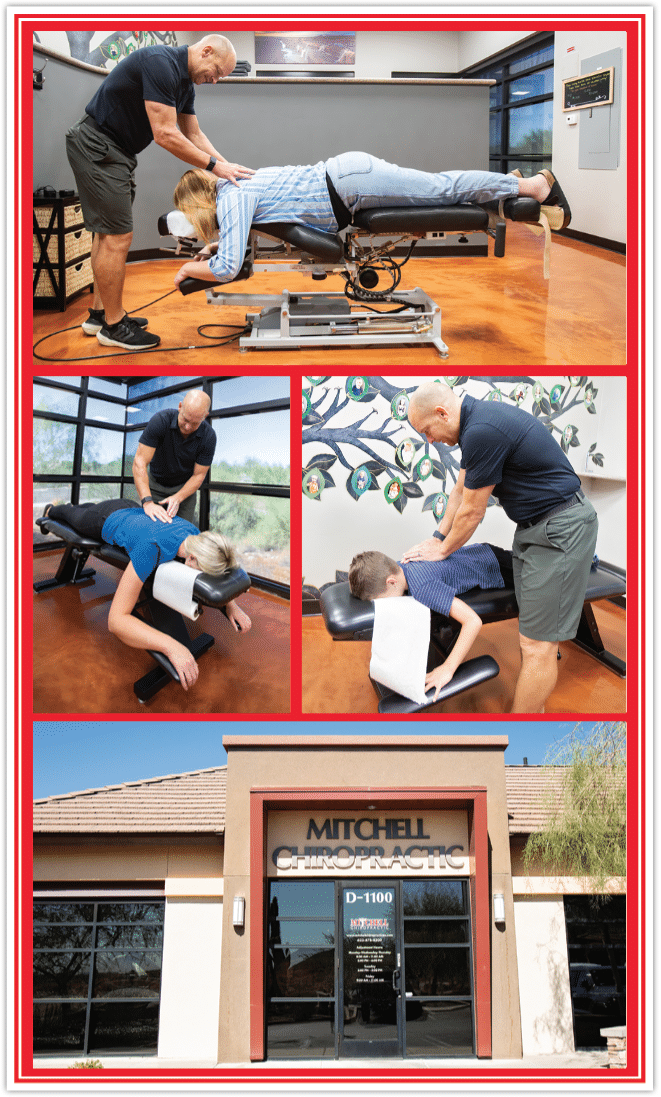 By Shay Moser
Photos by Kimberly Carrillo
Many people think chiropractors only help solve neck and back pain. As a high school varsity and collegiate soccer player, Dr. Scott Mitchell learned the remedy much more with his first sports injury — a sprained ankle.
"I didn't realize a chiropractor could work on something like that, but he adjusted my ankle, and I was able to return to sports faster than in the past," Dr. Mitchell explains. He says chiropractic care is unique compared to the traditional medical system. After his first injury in high school, he'd go to the chiropractor for natural approaches to heal injuries and for injury prevention versus the general physician who would prescribe pain medication.
Inspired by his experience, Dr. Mitchell earned his Doctor of Chiropractic after graduating from ASU. He began his career as an independent contractor before opening his practice in 2009.
Today, Mitchell Chiropractic in Peoria aims to be the West Valley's go-to place for people to receive the most advanced chiropractic care and for help living their best lives.
"A lot of patients visit a chiropractor for a spine problem and realize our care can improve the function of the central nervous system, which controls every vital function of the body," says Dr. Mitchell.
He's worked with professional Ironman athletes and the Seattle Sounders and Columbus Crew professional soccer teams. Dr. Mitchell says athletes can't always avoid getting hurt during games, but they'll handle any blows better if everything functions correctly.
What to expect at Mitchell Chiropractic
Whether a new patient is a professional athlete, recovering from a car accident, or has lower back pain or neck pain that can cause headaches and migraines, their first visit begins with a detailed health history and a physical examination.
"Our assessment goes beyond pain; we help to optimize function and life goals — whether new patients want to exercise more, sleep better, or be more productive at work," explains Dr. Mitchell. "We work to get them functioning better to improve their overall quality of life."
Unique to Mitchell Chiropractic is an X-ray motion study, which gives a highly detailed view of the patient's joints while in motion. With better information from these X-rays, Dr. Mitchell says he knows where to focus his efforts. "We can see areas that aren't functioning correctly, and later in the patient's care, we can retake the X-ray motion study to show improvements. In addition to assessing the movement of the spine, we can also detect problems that may not be causing symptoms at the time so that patients can be proactive with their health."
After studying the patient's health history and reading X-rays, Mitchell Chiropractic gives an initial adjustment to improve nervous system strength and creates a customized care plan. "Every patient is unique," says Dr. Mitchell. "We find the best treatment for each person to bring long-lasting relief; we don't do patchwork."
Dr. Mitchell says they provide care from "the womb to the tomb," as even babies need gentle chiropractic care after birth, to improve their sleep, or to help with colic.
Chiropractic after a Car Accident?
Mitchell Chiropractic understands the complexities of personal injury cases and takes pride in managing them thoroughly. "We have to take a different assessment on these patients because there are a lot of layers to their injuries," says Dr. Mitchell.
Mitchell Chiropractic steps in after the initial care to target the pain and underlying issues, giving patients long-term recovery from their accident injuries. "Medication is only going to mask —not correct — any problems," Dr. Mitchell says.
"Our office has well-established relationships with orthopedists, neurologists, MRI facilities, and physical therapists to offer the best and most complete care for acute trauma injuries," says Dr. Mitchell, adding that they're comfortable speaking with personal injury lawyers. Mitchell Chiropractic also analyzes, diagnoses, and treats the various complexities of whiplash and soft tissue injuries.
The Role of Nutrition and Fitness
Patients of Mitchell Chiropractic learn about real health, which comes from moving well, eating well, and thinking well. Dr. Mitchell says that there is no magic pill for real health.
"We provide specific recommendations on nutritional supplements, healthy food choices, and fitness recommendations to enhance our patients' return to optimal health."
Chiropractic Care for Overall Health
In addition, Mitchell Chiropractic helps its patients adapt to their environment. Dr. Mitchell says daily stress negatively impacts overall health, so one of the practice's main objectives is to help patients determine what stress is affecting their health and help them adapt to those stressors better.
"We give patients homework, so they learn how to care for themselves. Ultimately, we want patients to control and make their health care decisions." Mitchell Chiropractic also provides advanced workshops and resources about general and spinal health.
"One of my main goals with every patient is to get them off unnecessary drugs and to avoid surgeries," says Dr. Mitchell. "I love seeing the results in people's lives, such as when the quality of their life improves because they're getting better sleep. That spills over to every part of their life."
Dr. Mitchell says he and his team are looking forward to holding a patient appreciation week where they'll give raffle prizes and host a party. "We appreciate our patients so much; they're why we're here."
Visit mitchellchiropracticaz.com or call 623-878-8200 to schedule an appointment.
This content is sponsored by Mitchell Chiropractic.