By Shay Moser
Parents looking for something fun, active, and educational for their young ones from 6 months to teens need to look no further than the Arizona Sunrays, whose third location is coming soon to the Carefree Highway area.
There's much more than gymnastics and dance at the north Phoenix locations. They also offer NinjaZone classes for all ages and skill levels, competitive team gymnastics, Sunrays Academy for high-level gymnasts on the fast track in competitive gymnastics, and camp during scheduled school breaks throughout the year. They also offer classes for children with special needs and have a licensed preschool program for ages 3 to 5.
Where the Center First Stuck its Landing
Husband-and-wife founders Julie and Dan Witenstein created Arizona Sunrays over 32 years ago near 32nd Street and Thunderbird Road, offering gymnastics and dance.
"We outgrew that building and needed to get creative," says Sunrays co-owner and general manager Kenzie Gassaway. "How can we reach more families? How can we provide more classes? Then we got to build the dream, which was building our current location from the ground up."
The "dream" location is at 15801 N. 32nd St. in Phoenix, barely a mile from the center's original site. Programs include gymnastics, dance, NinjaZone, competitive team gymnastics, Sunrays Learning Center (a licensed preschool), Sunrays Academy private school, and Camp Sunrays.
Arizona Sunrays briefly branched out into the community, partnering with the cities of Phoenix and Scottsdale to offer classes in the city's community centers. The center also offered classes at churches that opened their doors.
"We grew a lot in the Arcadia area until we needed a freestanding center to offer even more classes," Gassaway explains. "That's how the second location in Arcadia came to be." The Arcadia location at 3923 E. Indian School Road in Phoenix offers gymnastics, NinjaZone, and Camp Sunrays.
Soon, a new third location at 2633 W. Carefree Highway in north Phoenix will open, offering gymnastics, NinjaZone, and Camp Sunrays. Plus, Kids' Night Out will be provided on Saturdays from 6 p.m. to 10 p.m. "We'll watch the kids, feed them dinner, and do lots of fun activities so parents can have a date night.
"We're excited to bring Arizona Sunrays' healthy, engaging activities to this growing area and become a new gathering place for families," continues Gassaway.
Sunrays Programs at the Carefree Highway Location
The newest Sunrays location will offer a full range of gymnastics classes for ages 6 months to teens, with classes set up according to ability and offered year-round. NinjaZone combines obstacle course training, gymnastics, martial arts, and freestyle movement that packs a lot of fun for children ages 16 months to 11 years to build students' character, discipline, and athletic development.
While Arizona Sunrays staff believes kids will fall in love with their programs at an early age, parents may wonder whether it's something their little one will enjoy. That's why Sunrays offers free baby and toddler gymnastics classes for kids under 18 months.
"Often, people think of Arizona Sunrays and think of high-level gymnastics," says Gassaway. "And, of course, we love that because we support high-level gymnastics, but we have a lot more itty-bitty ones who are just beginning to explore movement. We foster the little ones through those who want to take it to the next level. That's what our slogan, the 'joy of movement,' is all about. We want students of all levels to explore and be empowered through all our programs."
The Unique Abilities program offers gymnastics, dance, and NinjaZone for children with special needs. Parents can choose from one-on-one instruction, a small group with two to five kids, or a traditional class with an aide for their student.
At Camp Sunrays, campers can participate in various gymnastics circuits, dance, NinjaZone, special guest demonstrations, trampoline, group activities, water games, and more. It's from 8 a.m. to 3 p.m. for ages 4 to 10 years (must be potty trained).
Arizona Sunrays also offers birthday parties and field trips for schools, parent groups, or organizations. "If you host one of these events with us, children will climb, roll, jump, and balance through a memorable experience," Gassaway explains.
While the gymnastics and dance center has 85 employees, Gassaway says they work to keep a connected, family atmosphere. "We talk about the Sunrays family all the time and feeling close to one another and being there for each other — whether that be a staff member or a community member."
Learn more about Arizona Sunrays locations, programs, education, events, and staff at arizonasunrays.com.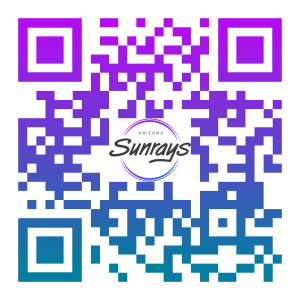 Please scan the QR code to join an interest list and receive updates on the Sunrays Carefree Highway location, coming soon.
This content is sponsored by Arizona Sunrays.