By Shay Moser
The "turf monster" may be the first thing that comes to mind when a player gets tripped up on the field, but it's also the name behind the Valley's award-winning artificial turf installation and landscaping company.
Turf Monsters, says owner Mike Freeland, "provides high-quality landscaping using the best materials and installation at a competitive price."
Opened in 2017, Turf Monsters offers more than artificial grass. It also provides custom putting greens, full-service landscaping, landscape lighting, trees and plants, pavers and patios, pergolas, and firepits and grills.
Don't trip on the cost
Freeland says that because the company buys all its products in bulk, it can pass the savings on to customers.
"We're still coming in competitively priced compared to some of our competitors who install low-quality products," he says.
Word-of-mouth recommendations are also a factor in Turf Monsters' success. "Friends and family want to know if someone had a good experience," says Freeland. "A lot of our business comes from customers' neighbors and relatives."
More proof of Turf Monsters' work is in the more than 350 five-star Google reviews about its quality work, dependability, and trusted team.
"We get people's yards done right the first time," Freeland says. "You never have to worry about who is working on your yard, and we stick to our deadlines."
Turf Monsters is also an artificial turf wholesaler. "It's not always easy to find the right synthetic turf to make your outdoor space vision come to life," explains Freeland.
Additionally, Freeland says Turf Monsters has a good relationship with its distributors, which helps get more products for the money and discounted prices. He says the strong relationship with distributors also leads to a more efficient, cost-effective, and productive supply chain.
"We didn't have any product shortages during the pandemic."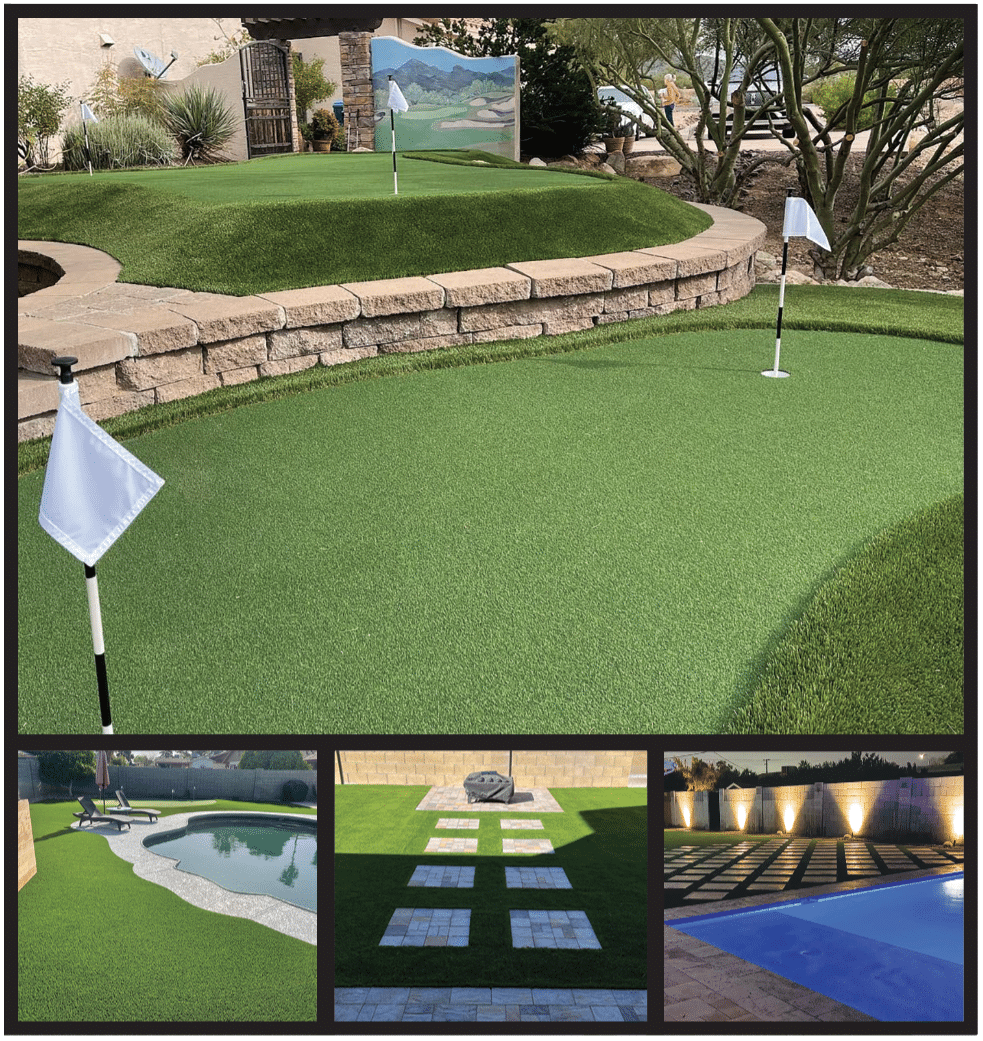 Want to kick some grass?
Freeland says Turf Monsters' artificial turf options feature a mix of olive green and field green turf fibers for artificial turf, putting greens, and pet-friendly turf. "It looks as real as it feels," he says.
Artificial turf
Installation specialists help customers design their yards to fit their lifestyles and activities.
Putting green turf
Freeland says only the highest-grade putting turf available is used in their installs. "The synthetic fiber turf we use is durable, low-maintenance, and scuff-resistant," he says.
Turf Monsters also customizes putting greens for small yard corners to entire areas. "Our professional installers help create a putting space for customers' needs and budget," Freeland says.
Arizonans who want to practice golf on the hottest summer days can even work with Turf Monsters to create an indoor putting green.
Pet-friendly turf
For customers with pets, Turf Monsters offers pet-friendly turf designed with materials that are non-toxic, soft to the touch, and heat-resistant.
From lighting to complete landscaping
Landscape specialists work with customers to design comfortable and attractive lighting that will add aesthetics, curb appeal, and safety to outdoor spaces.
"Landscape lighting lets you use your outdoor space long after the sun goes down," says Freeland."
Besides artificial turf installation and maintenance, Turf Monsters offers tree and plant installation, maintenance, and landscape edging and trimming. Turf Monsters also offers water-saving irrigation services and custom-built fire pits and grills.
"We know the Arizona landscape can be harsh for trees and plants, so we help create a custom landscape design that is attractive and will thrive in the desert," says Freeland. "But when you are looking for a low-maintenance design, paver installation is the way to go."
He says pergolas are also easy to care for and extend the outdoor living space.
Much of Turf Monsters' products, including TigerTurf, the highest-quality synthetic grass, are made in America. Its custom fire pits and grills are also built with 100% American-made products.
"We offer turf installation and landscaping services Valley-wide," says Freeland, adding that customers can call to schedule a free estimate.
Time to turf?
Freeland recommends browsing the website and checking out Turf Monsters' social media channels to see examples of past work, testimonials, and information about financing.
Call or send a message through the contact page on the website to ask questions and schedule an appointment. Visit turfmonstersaz.com or call 623-294-2877.
This content is sponsored by Turf Monsters.