By Michelle Talsma Everson
Growing up, North Phoenix resident Tamra Wyman worked for her parents' small business—and she loved it. When she began her first official job outside of her family's business, it was working a plumbing supply store. "Little did I know I'd marry a plumber and own a plumbing company," she says with a laugh. In 2016, she and her husband Doug Wyman opened Wyman Plumbing & Mechanical (WPM) and since then their locally-owned, small family business has continued to grow—providing quality service and plumbing and repair expertise to homes and businesses across North Phoenix and beyond.
"I worked for my parents' online retail business and missed running a business," Tamra shares. "Then, with Doug being a plumber for over 20 years, we realized that we had the opportunity to start our own business. At Wyman Plumbing & Mechanical, I manage the office and business logistics, and because of his expertise, Doug is the service manager. When we opened our business, we had to think big and give it 100%. We hit the ground running hard and with confidence, because for us, there's no other way to do it."
Your Friendly Neighborhood Plumbing and Appliance Repair Experts
Wyman Plumbing & Mechanical's plumbers and appliance repair team proudly serve residential and commercial neighbors across the North Valley and beyond. They are a state-licensed, bonded, and insured plumbing service and appliance repair company.
"From our office team to the service technicians, we all live in the same community and have the ambition to serve our fellow neighbors with excellence," according to WPM. "As a local tight-knit team, our plumbers and appliance repairmen provide honest, reliable services that stand head-and-shoulders above the rest."
Tamra shares that some of the things that sets Wyman Plumbing & Mechanical apart is their high-quality customer service and being able to quote potential customers over the phone.
"When we moved here from Colorado, I noticed that many plumbing and appliance repair shops wouldn't do quotes over the phone and charged customers to come out," she says. "But for customers' convenience, we can quote the majority of jobs over the phone."
She also notes that customer service is a top priority, and she encourages her staff to, "Leave a job site cleaner then they found it."
Tamra and Doug both share that Wyman Plumbing technicians are detailed, courteous and knowledgeable. "We are equipped with all the tools needed to get your task done efficiently, quickly and neatly," according to WPM. "Our experienced team will show up in service vehicles that are fully equipped with the latest technology in plumbing or appliance repair…We are confident you will not find better qualified, down-to-earth plumbers in all of Arizona."
"All of our service technicians wear booties and, of course, clean up after themselves," Tamra says. "It's all about leaving local customers with that 'wow' factor." She adds that the company replies quickly to customers' needs, including plumbing emergencies.
Wyman Plumbing & Mechanical's available services include: the installation and repair of water heaters, water softeners, reverse osmosis, garbage disposals, gas lines, and faucet, toilet, and pressure reducing valves (PRV). Other services include fixing drain issues, drain cleans, toilet problems, water main repairs, broken pipes, septic/sewer lines, leak detection, re-pipes, plumbing camera inspection, rooter services, and more commercial or residential plumbing offerings.
New to their line-up is their appliance repair services. Tamra explains that offering these services came as a natural extension of their already established plumbing and repair services. "We'd get calls asking us to install washers, dryers, dishwashers, you name it," she says. "So, knowing there's the demand, we now have appliance installation experts on staff who take these calls. It's often best to have us do them anyways, because they hook up to your plumbing system, and we have expertise in both appliance repair and plumbing."
Community Matters and the Importance of Supporting Local
In addition to offering quality service at fair prices to their neighbors, Wyman Plumbing & Mechanical is also invested in the community.
"We very much love giving back to our customers and those who have supported us," Tamra shares. "Some of our customers' causes that we have donated to include North Valley Christian Academy, a variety of teams and clubs at Boulder Creek High School, and Youth for Troops. One of our plumbing technicians is very passionate about IMCA Hobby Stock Racing and we recently sponsored his team, Cheetah Racing."
Added to running a business together, Doug and Tamra are busy parents with four children, ranging in ages from 19 to 5. Their eldest, Eric, works for the family business as a plumbing technician. As the owner of a local, family-run business, Doug emphasizes that supporting local businesses strengthens the community and economy.
"We urge residents to stay local with the small business owners and the licensed contractors who spent the time acquiring experience and expanding knowledge in their trade," he says. "The state of Arizona requires licensed contractors to meet experience and examination requirements. Each licensed contractor is also required by the state of Arizona to maintain a bond and insurance coverage to protect homeowners from unnecessary liability."
Looking to the future, Tamra and Doug share that they plan to work hard on continued success and growth.
"We will continue to grow new divisions based on customer demand, like we did with the appliance repair services," Tamra says. "Now that we repair appliances too in addition to plumbing and mechanical, we are truly your one-stop shop. We'd like to thank the community for their support, and we will continue to grow and give back as we do. There's nothing more important than supporting our local community and being able to make it a better place."
Wyman Plumbing & Mechanical's office is located at 2103 W. Parkside Lane, Ste. #101, in Phoenix, but the company services clients across the North Valley and beyond. To learn more, visit wyman-services.com or call 623-551-6688.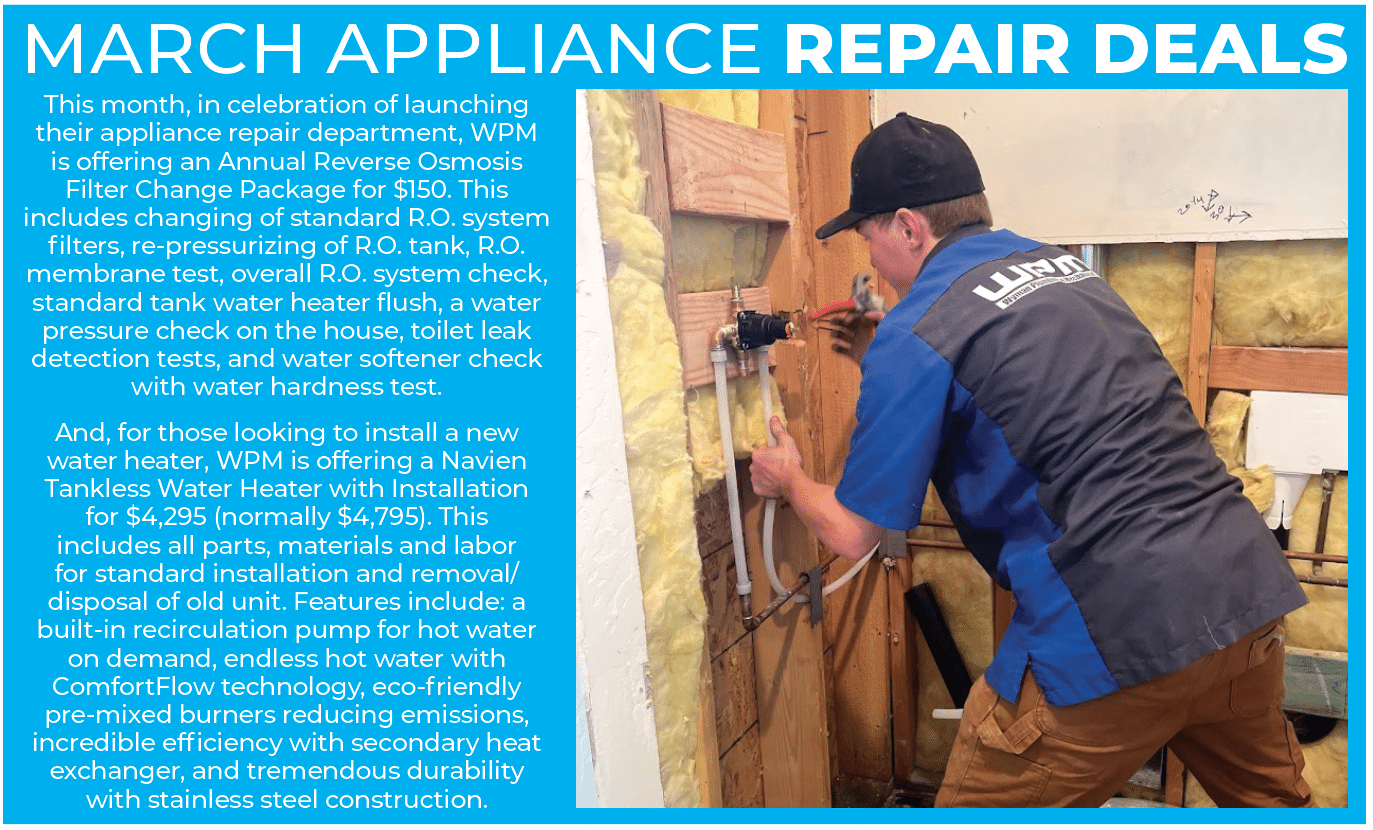 This content is sponsored by Wyman Plumbing & Mechanical.